Hi! I'm Bandit, and I'm a Bark Ranger! I love being a volunteer on the Blue Ridge Parkway. I'm a 4½-year-old Australian Shepard/ Australian Cattle Dog. For me, the mundane life of being a home-bound pet needed to be spiced up a bit. So, at 6 months old I encouraged my human, Ranger Conrad, to let me do more.
Ranger Conrad was interested in search and rescue. He found a training program with the Linville Central Rescue Squad that we could complete together. After almost a year and a half, I completed the training process to find people who are lost or missing. I probably would have finished earlier but humans are so hard to train!

Since finishing the program, I have been a part of active searches and numerous training scenarios. This gives me the opportunity to meet new humans and new canine friends, and allows me to explore more areas of this state. I always get to see it first, as Ranger Conrad follows along behind me. Sometimes I even go back and make sure I haven't lost him.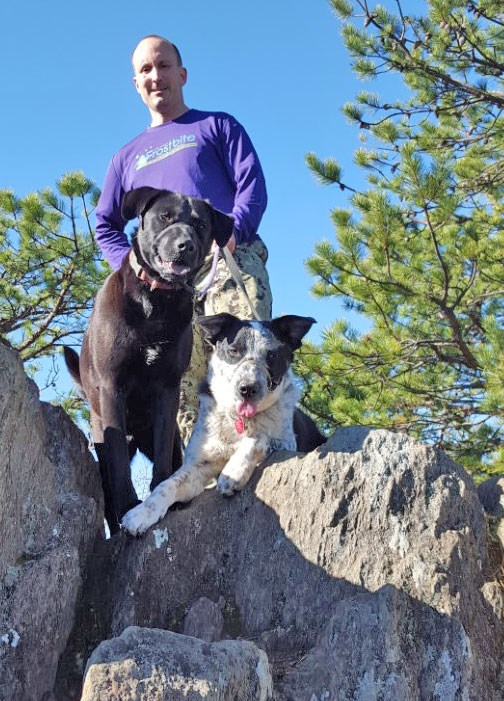 My human is a park ranger on the Blue Ridge Parkway, and he takes me along to participate in K-9 search and rescue talks and demonstrations. My human and his friends from Linville Central Rescue Squad spend time talking about hiking safety, search procedures, and my job. I guess this is the part that the humans need to know. But my favorite part is when I get to show everyone what really happens! Someone volunteers to hide from me, but my nose knows, and I go off to find them. Once I find them, I get to play fetch, and bring them back, and that's the greatest!
Also, from time to time I go on walks in the park. I have covered many miles of trail assisting my human in his roving activities. Sometimes I wish he would not stop and talk for so long with everyone he meets. I nudge his hand to remind him what our purpose is—to walk the trail. It's not that I'm not social, it's just that I communicate through a bark, a sniff, or eye contact. There is no need to spend more than a second or so doing that, and then I can go back to walking the trail and setting a good example. I show other canines (and humans) how to behave properly by following the B.A.R.K principles:
Bag your pet's waste

Always leash your pet

Respect wildlife

Know where you can go
National parks are exciting places for pets to visit with their family while on vacation. Sometimes these new places can be so exciting that they are overstimulating. It up to humans to learn the B.A.R.K. principles so pets can have a safe and fun visit anytime they go to an unfamiliar environment.
Hope you all have good trip to the Blue Ridge Parkway, and I look forward to passing you on the trail. Just no long conversations please, I have a job to do.