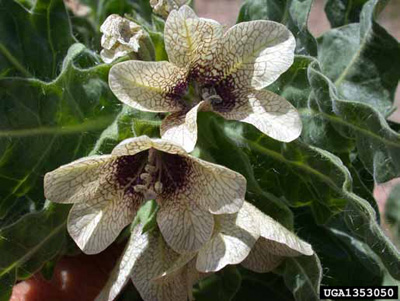 Biennial or annual

Foul-smelling foliage covered with sticky hairs.

Leaves gray-green with conspicuous pale veins.

Flowers occur both at the ends of the stems in long, leafy spikes and singly in the spaces between the leaves and the stem.

Flowers are pale yellow with conspicuous purple veins and a purple throat. Bases are densely covered with long, glandular hairs.

Fruit is a capsule that is concealed from view by the sepals.

All plant parts are toxic to livestock and humans when ingested.