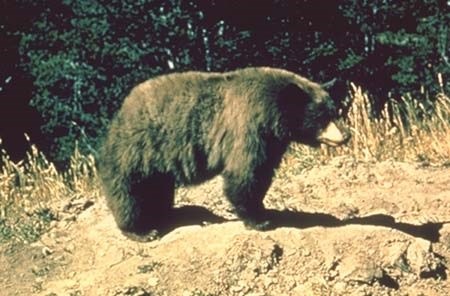 The Question: What is the population size and stability of black bears in the park?
Black bears can be found throughout much of North America. In most places the number of black bears is stable or increasing. However, data collected from 1985-1991 showed that Rocky Mountain National Park's population of black bears was only around 20 and had one of the lowest densities and reproductive rates ever recorded. The scientists attributed this to the park's large percentage of tundra and high alpine forests, which provide little of the nutritional foods like berries that bears prefer. With such low estimated bear numbers, reproductive rates, and available habitat, managers wanted to learn more about the size, stability, and health of the park's black bear population.
The Project: Use extensive trapping and telemetry, remote cameras, den checks, and bear sightings to determine bear population size and stability.
Roger Baldwin and Louis Bender of the New Mexico Cooperative Fish and Wildlife Research Unit designed a study using various techniques to monitor the black bears. First researchers snared bears, anesthetized, and radio collared them for use in telemetry tracking. Second researchers placed remote cameras fi ve kilometers apart throughout the park in order to identify uncollared bears. Lastly they used visitor reports of bears to help identify additional bears not collared or photographed. The researchers also checked dens to determine cub numbers and survival.