Bison Bellows: Hope is a Bison Bellow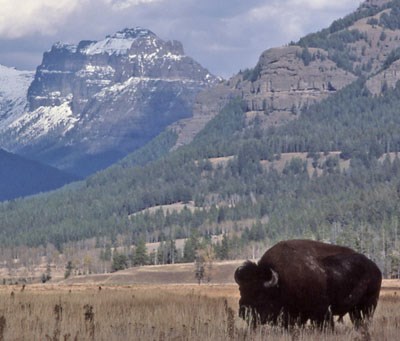 The decimation of the North American bison from tens of millions of free roaming animals to fewer than one thousand by the beginning of the 20th century was a tragedy and a confirmation of the rapacious nature of humankind. The sound of the bison bellow was nearly permanently silenced. However in the next act of the great American bison tale, the species was saved from extinction, restored in limited numbers to public lands, and emerged simultaneously as an icon of resilience as well as a viable agricultural commodity. This is where the story of bison could end -- but another act is unfolding into the "second recovery" of bison.
In the past decade, our expanding awareness and understanding of the important history, ecology, economy and cultural spirit of bison has promoted efforts to embrace the largest land mammal in North America. The symbolic importance of bison was federally recognized in May 2016 when President Obama signed a bill designating bison as the United States' national mammal, broadening support for this long forgotten wildlife species. Beyond symbolism, important steps are being made towards achieving full ecological restoration of North American bison. In this vision, success will be achieved when bison are allowed to move freely as large herds of wildlife, significantly interacting with ecological and human communities across extensive landscapes, as they had for millennia prior to devastating decades of wanton slaughter. This is a call to revitalize our connections to wild landscapes and to nurture our cultural ties to this magnificent animal.
This ambitious vision is being realized where bison are being restored within the historic range of bison in North America, spanning from sites in northern Mexico to Alaska. For example, in Utah, wild bison range freely and coexist with livestock on public lands in the Henry Mountains. In Canada, bison will be released into Banff National Park in 2017. In April 2016, the Blackfoot Confederacy, through their grassroots Iinnii Initiative ("iinnii" means bison in Blackfoot), brought 87 bison from Elk Island National Park in Canada back to their native Blackfeet homelands in Montana from which their ancestors were captured and relocated more than a century prior, reconnecting the Blackfoot people with a living symbol of their ancient culture and providing the basis for nature-based business development. Further, the Iinnii Initiative is building and strengthening relationships with neighboring public land managers in anticipation of cooperatively stewarding and managing an expanding free-ranging bison herd that will likely range across jurisdictional borders onto other public lands.
Pivotal to these exemplary restoration efforts is collaboration and shared stewardship. A US Department of Interior 2014 status report of federally managed bison herds calls for such collaboration amongst tribes, states, landowners, conservation groups, commercial bison producers, agricultural interests and other bison advocates. Working together, these entities can ensure that future generations will have opportunities to hear a wild bison's bellow on public lands and to see and experience healthy, intact ecological communities that are shaped by this influential keystone herbivore.
We are frequently reminded of the avarice, desperation, and stupidity that led to the slaughter of tens of millions of bison. But we have begun to imagine the North American prairies and woodlands painted with bison managed cooperatively under shared stewardship - large herds grazing, wallowing, nourishing people and predators, sustaining the belief that we can work towards fixing what we have broken. It was Adolph Murie who admonished conservationists with his words: "Let us not have puny thoughts. Let us think on a greater scale. Let us not have those of the future decry our smallness of concept and lack of foresight." We have responded with a new and bigger vision for the ecological restoration of American Bison and what once seemed hopeless now seems possible. Hope is the presence of wild bison and the sound its bellow.
This Bison Bellows story was adapted from an editorial, published in the journal Conservation Biology in 2016, entitled, "Hope is a bison" by Kent Redford, Keith Aune and Glenn Plumb.
Read more Bison Bellows
here
.
Did you know?
The American Bison Society (ABS) helped save bison from extinction in the early 1900s. Revived in 2006, ABS brings bison advocates together to discuss strategies to advance the second recovery of bison in North America. The ABS is again bringing bison experts and enthusiasts together during the last week of September to explore the cultural and social dimensions of bison restoration. For more information, including a program agenda,
visit the American Bison Society website here
.
Last updated: April 5, 2018