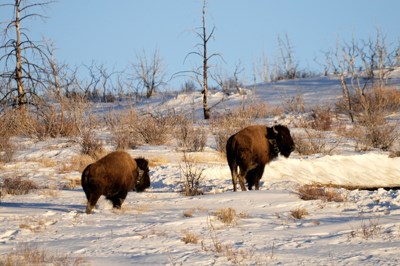 Along the Utah-Colorado state border sits a mountain range resembling a shelf of books. This 1.2 million acre range, known as the Book Cliffs, is home to magnificent sandstone buttes, pinyon-juniper filled arroyos, and a herd of roughly 400 bison. This bison herd is only constrained by the steep and rugged canyons found in the Book Cliffs: it truly is a free-ranging and wild population.
As depicted in American Indian rock art and pictographs, bison were historically present in the Book Cliffs and Uintah Basin in Utah. However, bison were extirpated from this area until 1986 when the Ute Indian Tribe reintroduced six bison on the Hill Creek Extension of the Uintah and Ouray Reservation. Today, the Ute bison population averages around 600 individuals and has recently began to migrate into the Book Cliffs. A new story began on public Bureau of Land Management (BLM) land when 14 bison from the Ute Tribe herd were reintroduced to the Book Cliffs in late August 2009. Thirty-nine bison from the Henry Mountain herd were also released five months later, with 40 bison joining one year later. In partnership with the BLM and Ute Tribe Fish and Wildlife Department, the Utah Division of Wildlife Resources viewed this reintroduction as a rare opportunity to have a wild, free-ranging, and publicly managed bison herd. Today, the Book Cliffs herd has begun to migrate onto the Uintah and Ouray Reservation, sometimes comingling with the Ute bison herd.
Managing bison on multi-jurisdictional land is very complex. The Book Cliffs offer large parcels of intact land that can support a free-ranging bison herd. However, this land is owned and managed by public, private, and tribal entities. Collaborating with tribes and other organizations who want to partner with state and federal agencies to restore bison across multiple jurisdictions is key to bison conservation.
Read more Bison Bellows
here
.
Did you know?
A North Book Cliffs bison planning committee was formed to help develop a management plan for the Book Cliffs bison herd. The committee analyzes range expansion, bison health, public recreation opportunities, and herd growth in order to identify any potential management issues.