Bison Bellows: Coming Back Home - The Elk Island Bison Transfer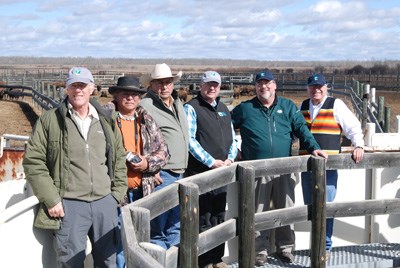 On April 4, 2016, 87 plains bison calves from Elk Island National Park in Alberta, Canada made their way back home to the Blackfeet Reservation near Browning, Montana. This transfer of bison symbolizes a monumental homecoming of bison whose ancestors once lived on the reservation. The Blackfeet Nation, Elk Island National Park, Wildlife Conservation Society, and Oakland Zoo collaborated since December 2015 to make this event happen. The historic translocation to bring the bison back to their original home marks an extremely significant purpose as the Blackfeet Nation, American Indian tribes, and First Nations work to restore such an important cultural icon back on their native lands.
The 87 bison calves, each roughly a year old, are descendants from individuals captured on the Blackfeet land in 1873 by Samuel Walking Coyote, a member of the Pend d'Oreille tribe. Samuel Walking Coyote eventually sold a majority of the herd to Michel Pablo and Charles Allard to establish the Pablo-Allard herd. This herd ultimately became the largest in the United States at the time and contributed to the restocking of bison in conservation herds. In 1907, the government of Canada bought the herd and later shipped the bison to Elk Island National Park, where they currently live today.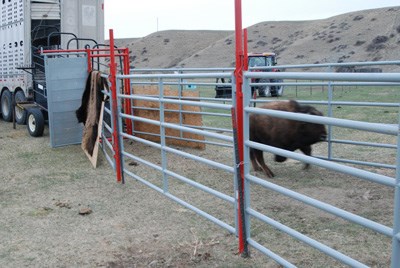 The bison were sorted for this project in January 2016, and then each bison was tested to ensure it was free of tuberculosis and brucellosis, two diseases sometimes found in bison herds. After a 60-day quarantine, the calves were transported by truck to the Blackfeet Reservation on April 4, and along the way, the tribe gave a ceremonial blessing. The herd will ultimately form a source stock for future releases on larger conservation areas on the Blackfeet Reservation and this fall, roughly 20 individuals will be transported to the Oakland Zoo in California. As part of the zoo's California Trail project, the bison will be allowed to naturally breed and later the offspring will be returned to the Blackfeet Reservation. Together, the Oakland Zoo and Blackfeet Nation will work to promote bison conservation and cultural preservation.
This historic event constitutes a tremendous accomplishment for the Blackfeet Nation and has significant ecological, economic, and cultural impacts. The transfer represents a long-awaited return, as the bison are culturally and spiritually connected to the Blackfeet Nation. This relocation of bison truly signifies one way they can begin to restore and conserve their natural and cultural heritage.
Read more Bison Bellows
here
.
Did you know?
The bison were transported to the Blackfeet Reservation by truck. Upon their arrival, they were unloaded into the 9,000-acre Buffalo Calf Winter Camp, where they will be held for a 30-day quarantine to ensure they are disease-free.
Last updated: November 6, 2017