Bison Bellows: Returning bison to the land - Jim Stone and the Inter Tribal Buffalo Council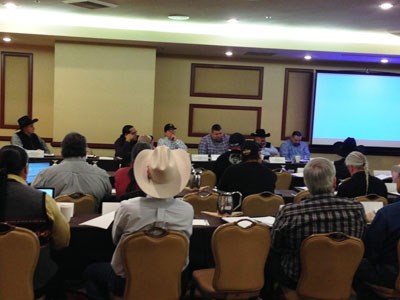 The Inter Tribal Buffalo Council (ITBC) was established in 1992 as a grassroots organization to restore bison to Tribal lands. The ITBC coordinates with the National Park Service to facilitate the transfer of bison culled from national park lands to Tribal lands, facilitates educational programs, and provides technical assistance to 56 Tribes.
Jim Stone is a member of the Yankton Sioux Tribe and is the Executive Director of ITBC. He shows up to work every day to help put everything in place for Tribes to be successful bison stewards. He is committed to helping bison return to Tribal lands and by doing so foster new interactions between kids and elders. Returning bison to the land can stimulate the sharing of Tribal stories and oral traditions that have been dormant for more than 150 years. Jim also participates in the nuts and bolts of the organization, whether that is writing grants, teaching Tribal members about bison, or maintaining partnerships. He is committed to the Tribes and bringing back the sacred animal that is a part of the Tribes' identity.
"Farm to School" is one ITBC program that promotes bison meat to be incorporated in Tribal school meal programs. ITBC and Tribes see consumption of bison meat as a key component of the species' protection. To the ITBC and participating Tribes, bison are not considered as livestock. Indeed, ITBC and the Tribes seek to steward bison as wildlife, not livestock, which is contrary to how broader society often views animals reared for consumption. "By bringing bison into school meal programs, the Tribes are sticking to tradition. We are the apex predator and we are committed to help the bison serve the purpose they were put on this earth for," says Jim.
Through consumption, ceremonies, and daily life many Tribes believe there is a transfer of intrinsic knowledge that bison have accumulated over the past 10,000 years. "When you eat bison, you are taking the strength of the animal and its historical knowledge. It is disrespectful to the animal if you don't consume it," says Jim. He believes that many of the social problems Tribes are facing today are rooted in the loss of a way of life. But by incorporating bison back into today's lifestyles, the Tribes can strengthen their society. It is a rebirth of culture. By bringing bison back to the landscape, we can once again function as the strong society we once were," says the man who leads ITBC forward!
For more information about ITBC and their contributions to bison conservation,
visit their website
.
Read more Bison Bellows
here.
Did you know?

Words do matter, but sometimes not as much as you might think. Jim Stone says that words are just words, and whether you say bison or buffalo, it all refers to the same animal. The words you use are a part of your culture and language. In today's world, we often misjudge whether we agree or disagree based on what words we use and don't use. So whether you say bison or buffalo, it really doesn't matter when discussing how we collectively go about stewardship and conservation.
Last updated: November 6, 2017