Bison Bellows: It's not the end, only the beginning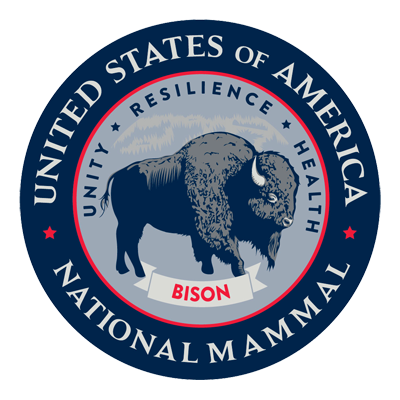 On November 5th, we have a more reasons than ever to celebrate National Bison Day. In fact, 2016 may be remembered as the "year of the bison". But myriad stories, ultimately tracing back evolutionarily through millennia, pay tribute to the American bison's remarkable comeback from human-imposed devastation to preservation, conservation and national commemoration. The Bison Bellows essay series began to chronicle these diverse stories weekly, beginning a year ago on National Bison Day in 2015, in honor of the National Park Service's Centennial year. This Bellows essay marks the end of the series, but the remarkable story of bison carries on into the future.
Once numbering roughly 40 million individuals ranging from Canada to Mexico and New York to California, bison populations fell to a mere 1,000 individuals after extreme hunting pressures in the late 19th century. A handful of pioneering preservationists stepped up to protect the few small isolated herds that managed to avoid the slaughter, ultimately saving the species from extinction. Despite the genetic bottleneck that these surviving bison endured, this remarkably resilient animal has since thrived as a keystone herbivore in grassland ecosystems; in captivity, raised for food and fiber; and as a cultural icon representing resilience, unity and healthy landscapes and people.
Today, federal agencies, tribes and tribal entities, private landowners, NGOs and other dedicated bison advocates are unified in efforts to conserve and manage bison for a variety of purposes. Over 12,000 plains bison are managed in 19 conservation herds over more than 4 million acres of federal lands stewarded by the National Park Service, U.S. Fish and Wildlife Service, and Bureau of Land Management; additional conservation herds are collaboratively managed by states, NGOs and tribes. The InterTribal Buffalo Council is helping to restore bison on tribal lands, revitalizing American Indian cultural connections to bison and incorporating healthy bison meat in school lunch programs. Private bison producers are raising bison for meat, wool and other bison-based commodities in all 50 states. Bison are also contributing to the ecological conservation of both plant and animal species such as the endangered Karner blue butterfly and restoring more heterogeneous grazing patterns that increase biodiversity on tallgrass prairies.
In 2016, several historic events elevated the profile and status of bison to new heights, underscoring the momentum of a new era of bison recovery. In April, the Blackfeet Nation helped bring a herd of 87 bison from Elk Island National Park in Canada back to their native home lands from which they originated on the Blackfeet Reservation in Montana. The multifaceted connection between society, culture, and the environment brought representatives from both sides of the aisle together to support the National Bison Legacy Act, which passed both the House and Senate and was signed into law and declared bison our national mammal in May of 2016! And in September, bison conservationists met at the American Bison Society conference in Banff, Alberta to discuss the social and human dimensions of bison conservation, in addition to other topics including population viability and conservation of federal and tribal herds; concurrently, 15 Native American tribes and First Nations people convened to renew or become new signatories in support of the second anniversary of the Buffalo Treaty. There is no doubt that in 2016 we can say with confidence that bison are back, resilient as ever, bringing people together to correct our past mistakes of nearly extirpating the largest land mammal of North America.
While this essay is the final installment to the Bellows series, stories of bison and our deep connections to this majestic mammal will carry on into the future (and you can access the 51 prior Bellows stories in archives; see link below). We have only begun to truly embrace and celebrate the symbolic, cultural, ecological and economic values that bison bring to our lives. The future of bison is ever hopeful.
Read more Bison Bellows
here
.
Did you know?
The Bison Bellow series was part of a 52-week campaign to celebrate the herds, people, and stories imperative to bison conservation efforts.
Last updated: November 2, 2017