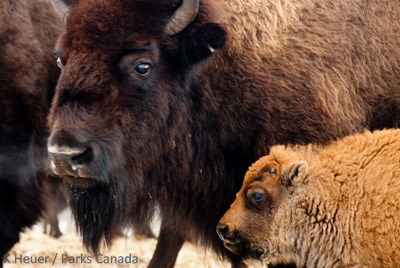 Situated between the snow-capped Canadian Rocky Mountains lies an expansive system of grassy, backcountry valleys perfect for a future herd of bison. While there are currently no bison found in this area, Parks Canada is proposing to reintroduce a small herd of bison to a remote corner of Banff National Park in 2017. This reintroduction is part of a five-year, pilot project to assess the feasibility of longer term bison restoration in the area.
What makes this reintroduction unique is that Parks Canada is timing the release with other conservation initiatives that would allow bison to thrive as a wild herd, such as restoring grassland habitats and populations of natural predators. Parks Canada is proposing a soft-release, where the new herd would be transferred from Elk Island National Park in Alberta, Canada to an enclosed pasture within the reintroduction zone where they will be held and supported in order to bond to their new home. After 16 - 18 months, the bison would be allowed to range within the full 1,189 km2 reintroduction site - an area six times larger than their initial home in Elk Island National Park.
Although the reintroduction will initially require human-management, Parks Canada recognizes bison as wildlife under the National Parks Act and Regulations and the reintroduced herd will have the same level of protection as other wildlife species in the park, such as wolves, moose, and elk. The herd will be subject to natural pressures, such as predation and extreme weather events, and will roam freely within the reintroduction zone. Not only will the reintroduced herd contribute to ecological restoration of the area, but they will also enhance visitor experiences and help renew cultural traditions of some of the area's aboriginal people. After five years, an evaluation of the five-year pilot project will occur and a decision made whether to continue with longer term bison restoration.
Much research has gone in to the plan and Parks Canada is currently seeking public comment on their detailed environmental impact analysis (DEIA). Comments can be made between October 27, 2016 and November 27, 2016.
Read more Bison Bellows
here
.
Did you know?
Bison have not roamed the grassy valleys of Banff National Park since before the park's establishment in 1885. After extreme hunting pressures that almost caused the extinction of bison, Parks Canada played an important role in the recovery of the species. Banff National Park was home to a small display herd until 1997 when herd was removed to allow for wildlife movement near the town of Banff.