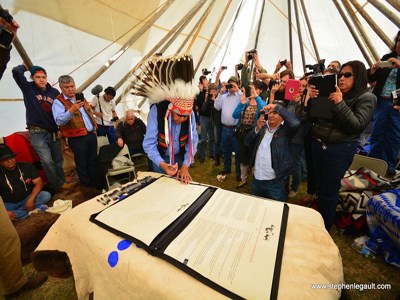 A little over a year ago in September of 2014, American Indians and the First Nations of Canada made history. For the first time in 150 years, 13 nations from 8 reservations came together and signed the first cross-border indigenous treaty. This treaty established an intertribal alliance to restore bison to 6.3 million acres of land between the United States and Canada---an area that is the size of Massachusetts!
The eight reservations included:
Blackfeet Nation
Blood Tribe
Siksika Nation
Piikani Nation
Assiniboine and Gros Ventre Tribes of Fort Belknap Indian Reservation
Assiniboine and Sioux Tribes of Fort Peck Indian Reservation
Salish and Kootenai Tribes of the Confederated Salish and Kootenai Indian Reservation
Tsuu T'ina Nation
The original treaty signing occurred September 23, 2014 on the Blackfeet Territory in Montana, with four additional First Nations singing in Banff, Alberta in August 2015. This treaty, often referred to as the "buffalo treaty," is an agreement of cooperation, renewal, and restoration. It represents a significant step by indigenous people to preserve prairie ecosystems and their culture. "To honor, recognize, and revitalize the time immemorial relationship we have with BUFFALO to once again live among us as CREATOR intended by doing everything within our means so WE and BUFFALO will once again live together to nurture each other culturally and spiritually." It will help create a national agenda that will return bison back to the land and allow them to roam freely between the United States and Canada.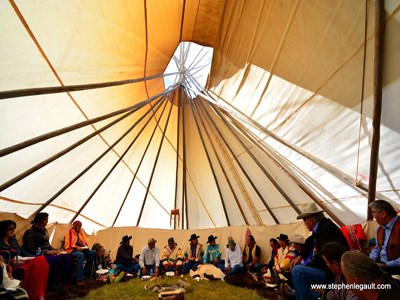 To achieve the treaty's vison, collaboration between researchers, governments, and conservation groups is a must. The treaty acknowledges that if the American Indian tribes and First Nations work collectively, rather than individually, they will have more power to restore prairie habitat and return bison back to the land. "WE, collectively, invited Non-Governmental organizations, Corporations and others of the business and commercial community, to form partnerships with the signatories to bring about the manifestation of the intent of this treaty."
There is increasing recognition that the loss of bison has led to the deterioration of ecological integrity, diminished Tribal and First Nations health, and an immense loss of culture. With the treaty and promotion of conservation, there can be a revitalization of the cultural and spiritual connection between the Tribes and the bison, "so together WE can have our brother, the BUFFALO, lead us in nurturing our land, plants and other animals to once again realize THE BUFFALO WAYS for our future generations."
Read more Bison Bellows
here.
Did you know?
Future plans are already in place to hold the next buffalo treaty convention in September 2016 in Banff. This convention will allow treaty signatories to discuss bison issues and ways to improve the treaty in order to advance bison conservation, land preservation, cultural protection, and youth education.