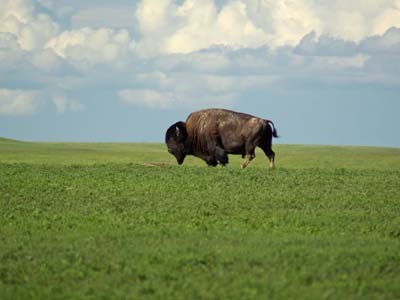 The name "badlands" promotes a conceived image of a barren, desolate landscape. But there is nothing bad about Badlands National Park. In fact, it should be called "goodlands." For is it a landscape of full unique triangular buttes, orange and tan geological spires, expansive stretches of mixed grass prairie, and a herd of over 1,000 roaming bison.
Located in South Dakota, Badlands National Park is actually the birth place of modern day paleontology. The Badlands were formed roughly 69 million years ago through geological forces such as erosion and deposition. When the first scientists traveled to the Badlands in the 1800s, they came across fossils from rhinoceroses, turtles, fish, and deer-like mammals. Today, Badlands National Park is home to one of the best preserved fossil records from the late Eocene and Oligocene time period.
Besides containing one of the most extensive fossil deposits, Badlands is home to one of the largest federal bison herds in North America. In 1963, two truckloads carrying 25 bison each traveled from Theodore Roosevelt National Park to the Badlands. The early stocking of 50 bison contributes today to the herd of over 1,000 animals. These bison are part of the metapopulation of federal bison. A metapopulation is a group of individual populations that are separated spatially, but consist of the same species. For example, the bison at Sully's Hill National Game Preserve, Rocky Mountain Arsenal National Wildlife Refuge, Fort Niobrara National Wildlife Refuge, and Badlands are separated by geographic location, but all make up a large federal herd (a metapopulation) of plains bison.