Article
Waterton-Glacier BioBlitz! A Fun-filled Day of Hands-on-Science
"I see one! Quick, get the net!" Boy Scouts and butterflies abound as the first-ever Waterton-Glacier Butterfly BioBlitz begins. I angle my camera closer to capture the savvy stalkers making their way through a field of wildflowers, wielding their nets in anticipation of the next flittering butterfly. With an excited leap, a scout captures an unsuspecting fritillary and gently places it into the expert hands of Waterton Lakes National Park biologist Jen Carpenter.
Carpenter is part of a larger contingent of staff and experts from both Waterton Lakes and Glacier National Parks who have come together to host two BioBlitz events this summer. The excitement began in early June with a fungus foray, in which citizen scientists worked with experts to identify and collect the parks' mushroom species during the inaugural Waterton-Glacier Mushroom BioBlitz. The fun continued with the Waterton-Glacier Butterfly BioBlitz, held in early July. Excited butterfly enthusiasts joined Lepidoptera specialists to identify the parks' colorful assortment of butterflies.
At Glacier, the Crown of the Continent Research Learning Center's (CCRLC) Citizen Science Program coordinated both events. The program has engaged the public in citizen science since 2005, and currently manages the Common Loon and High Country Citizen Science projects. Through these projects, thousands of citizen scientists have been trained and introduced to data collection, providing a cadre of folks interested in identifying mushrooms and butterflies during this summer's BioBlitzes. Even so, participants ranged from well-seasoned citizen scientists to young novices interested in discovering the unique, delicate, and perplexing species found throughout the fungus and butterfly worlds.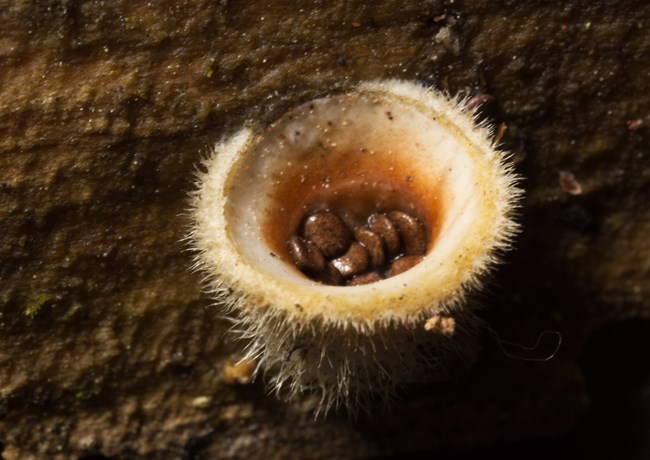 Expert mycologists from both the United States and Canada worked alongside sixty public participants at the Mushroom BioBlitz, searching high and low for the diverse array of fungus species found in the park. From the tiny bird's nest fungus to the red belt conk, citizen scientists collected a variety of specimens throughout Glacier. In fact, experts verified that 140 species were collected in all!
Among the most interesting to mushroom experts was Phaeomarasmius erinaceus, a small mushroom found on wood. It is relatively rare, and this may be Montana's first record of it. The bird's nest fungus took home the "cutest" award. According to University of Montana mycologist Cathy Cripps, this fungus looks like a tiny bird's nest with eggs inside (the eggs are actually filled with spores). When a raindrop hits the "nest," the "eggs" splash out and spores are dispersed. Although these fungi represent some of the highlights, participants found many fascinating specimens­­—at least 28 new species were added to Glacier's mushroom list.

Not to be outdone, volunteers at the Butterfly BioBlitz ran, jumped, and leaped to catch and identify as many butterfly species as they could find. Once again, experts from both sides of the border joined with citizen scientists to identify the wide-variety of collected species. Captured butterflies ranged from large, colorful swallowtails, like the western tiger swallowtail, to checkered-winged fritillaries, such as the arctic ridge fritillary. Participants even collected two butterflies new to park records: the variegated fritillary (Euptoieta claudia) and the western checkerspot (Euphydryas chalcedona). Perhaps of greatest interest though, is the identification of the Gillette's checkerspot, a Montana Species of Concern.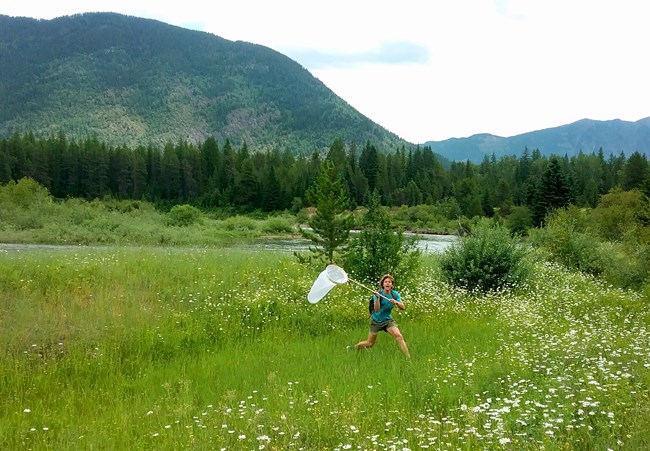 Participants at the Butterfly BioBlitz ranged from a small, but exuberant little girl of 3½ to a butterfly veteran nearing 70. Overall, over 80 citizen scientists, staff, and experts helped to collect and identify 46 different butterfly species in various locations throughout the park! A variety of innovative techniques were employed in capturing the winged beauties—from leaping, to stalking, to near dance, our participants showed their true creativity. Although our volunteers differed on capture techniques, one thing remained consistent among them all…smiles, plenty of smiles. Indeed—smiles, curiosity, and excitement were overarching themes at both BioBlitzes, providing a great start to a summer filled with hands-on science and discovery.

This event was made possible by the support of Waterton Lakes National Park, the Glacier National Park Conservancy, Montana Geographic Alliance, Western Montana Mycological Association, Alberta Mycological Society, and our many volunteer experts. To find out more, contact Tara Carolin at tara_carolin@nps.gov.
What is a BioBlitz and why are BioBlitzes important to park managers? This video provides the answers to these questions as well as highlights the Crown of the Continent Research Learning Center's recent Waterton-Glacier Mushroom and Butterfly BioBlitzes, held during the summer of 2017. An Audio Described version of this video is also available.

Duration:

2 minutes, 14 seconds
Last updated: December 4, 2017