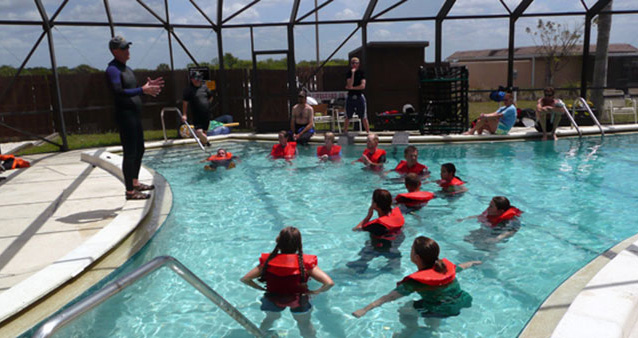 In 2012, one US Fish and Wildlife Service and seven NPS employees began the process of becoming certified instructors for the A-312 water ditching and survival course in a training session at Big Cypress.
The water ditching and survival course is designed to provide the skills needed to safely exit an aircraft that has made an emergency landing in water. Although this course is not required at the departmental level, both the NPS and FWS require anyone who flies over water to attend this lifesaving class.
The NPS has an ongoing need for water ditching and survival training around the continental United States, as well as in Alaska and Hawaii. The ultimate goal of this train-the-trainer course was to provide in-house capability to support NPS need for this vital class.
The three-day course offered a combination of classroom instruction and hands-on training in the swimming pool at Big Cypress headquarters. The students also attended the actual water ditching and survival course to meet prerequisites and as an opportunity to consider the course from the angle of an instructor trainee.
On the final day of the course, the student trainees provided the entire water ditching and survival class to 11 students from the National Park Service, US Geological Survey, and US Fish and Wildlife Service.
The National Park Service flies more than 17,000 hours each year, with 60% of those hours flown in support of natural resource-related missions. These complex activities are routinely performed in diverse terrain and environmental conditions. The ability to provide continuous training opportunities to mitigate the risk of flying over water is critical to the NPS mission. The NPS student trainees from Big Cypress, Everglades, Glen Canyon, and Channel Islands will be mentored over the next several months before being signed off as fully qualified instructors.
Contact: Meg Gallagher
Email: meg_gallagher@nps.gov
Phone: (208) 387-5783