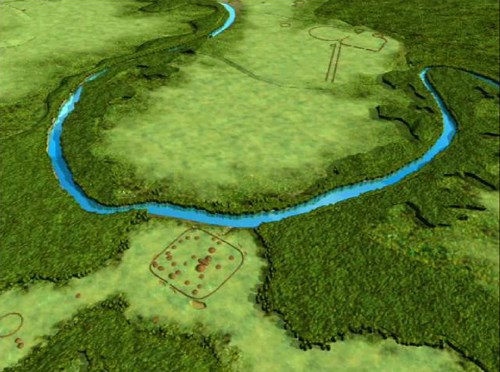 A Prehistoric Legacy
Long, long before Camp Sherman was established as one of thirty-two Army cantonments in 1917, the lands that would become Camp Sherman were home to a thriving prehistoric culture of American Indians who utilized the lands for survival, earthwork construction and interrment for their dead.
Two thousand years ago, American Indians of the Hopewell culture lived in scattered hamlets throughout the south-central Ohio valley. They would often come together to celebrate feasts, funerals and rites of passage. It's unclear how or exactly why they came together, but when they did, they would construct monumental earthworks that would span hundres of acres of land. These earthworks were constructed outward since there was no means to construct upwards at the time. In doing so, they created perfect geometric shapes of circles, squares and octagons throughout the current Ross county area. These complexes would encompass hundreds of acres of land with their massive earthen walls.
While earthworks were constructed throughout the area, one spot located on the northern edge of present-day Chillicothe wound up being the most significant of the culture, even though it was likely one of the smallest earthworks ever created by the Hopewell. Mound City Group sits adjacent to the Scioto river about two miles north of Chillicothe. It was likely a prime and coveted tract of land that attracted the prehistoric American Indians to it, and its location is likely what made it so covted to land agents in 1917 as they would incorporate it into Camp Sherman.