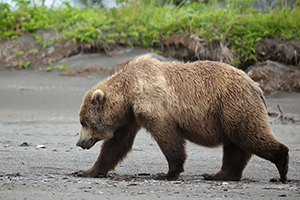 Brown and grizzly are common names for the same species, Ursus arctos; the difference between the two is geographic location, which influences diet, size, and behavior. Those that live in coastal areas of Alaska are called brown bears, while typically inland bears that have limited or no access to marine-derived food resources are often smaller and called grizzlies. Both have the same distinctive body shape described below.
Distinctive shoulder hump.
Rump is lower than shoulder hump.
Face profile appears dished in between the eyes and tip of the snout.
Ears are short and round.
Front claws are slightly curved and 2-4 inches longs, depending on how much digging the individual bear does.
Toes are close together, and form a farily straight line. A line drawn under the big toe across the top of the pad runs through or below the bottom half of the little toe on grizzly/brown bear tracks. Claw marks are often visible in the tracks.
Brown bears are larger than black bears, standing 3-5 feet at the shoulder when on all fours.