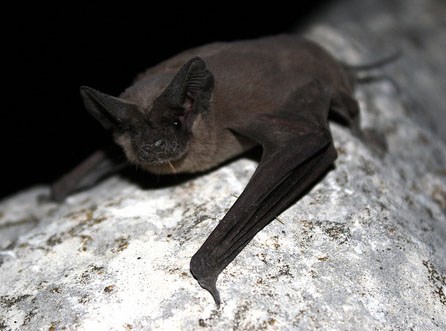 by NCR Wildlife Biologist Scott Bates

So far, bat monitoring in the National Capital Region has produced heartening results about the prevalence of federally listed species, and the diversity of bat species present in the region. Here are highlights from August 2016 to August 2017 monitoring.

The researchers use automated detectors to do acoustic monitoring throughout the year. They then use the audio results to pinpoint locations for more intensive summer mist-netting (May 15-August 15).

The two federally listed bat species in NCR parks are the threatened northern long-eared bat (Myotis septentrionalis) and the endangered Indiana bat (Myotis sodalis).

Acoustic sampling results during fall, winter, and spring resulted in four parks that have both species (C&O Canal National Historical Park, George Washington Memorial Parkway, National Capital Parks-East, and Prince William Forest Park). Manassas National Battlefield has the Indiana bat; Rock Creek Park has the northern long-eared bat.

In summer, neither species was acoustically detected at Monocacy National Battlefield or the National Mall and Memorial Parks. However northern long-eared and Indiana bats were acoustically detected at the remaining NCR parks except for Antietam National Battlefield, which had only northern long-eared bat detections.

Mist-netting during the summer survey period produced northern long-eared bats at Prince William and Rock Creek. Reproduction was evident at Prince William.

Two new species were acoustically detected in NCR that have not yet been confirmed by mist-netting: the southeastern bat and the Mexican freetailed bat. The Mexican freetailed bat (Tadarida brasiliensis) was detected during the summer at all parks except Catoctin and Monocacy. This winter, researchers will carefully examine the audio recordings to confirm the identity of these species, and they will seek to physically confirm their presence in future mist-netting.

This update on bat surveys was produced by the USGS Virginia Cooperative Fish and Wildlife Research Unit. The authors are graduate student Sabrina Deeley and her advisor, Dr. Mark Ford. If you'd like to learn more about NCR bat survey results, contact Dr. Ford at 540-231-5927.