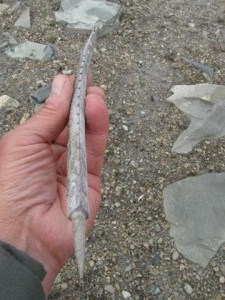 A Rare Find
The tip of a wooden arrow shaft, a section of an antler arrow point—rarely do archeologists find these types of organic objects preserved when they excavate a site. However, archeologists have found these types of things perfectly preserved in Lake Clark. Where? In ice and snow patches! These ice and snow patches in the park's higher elevation areas have preserved organic material for hundreds and in some cases, even thousands of years. Also found in these ice patches are things like animal scat, antlers, fragments of ancient wood and horns—all hundreds of years old—traces of vanished ecosystems. The barbed projectile point highlighted in this article is a rare find.
High elevation areas where ice patches form are not frequented by a significant number of people today—apart from mountain climbers and other adventurers, not many make the journey to these areas. In the past, however, people traveled to these places specifically because of the ice and snow patches. When winter snow accumulates in place, the snow can become thick enough to withstand summer temperatures. Over the years, the old snow stratifies into layers of ice. In the summer, these ice patches provide water, young plants at the margins, and most importantly, they also offer a cool refuge for animals fleeing biting insects. Humans naturally followed the animals. Anything that fell on top of these ice patches was encased in the ice and snow and preserved. Unlike glaciers, ice and snow patches do not move, so objects are not crushed or broken—generally where they fall is where they are found.
The high potential perennial snow and ice patches in Lake Clark are relatively low in elevation—and many have melted away due to global and regional climate change, resulting in fairly immediate loss of fragile organic artifacts once exposed to the air.