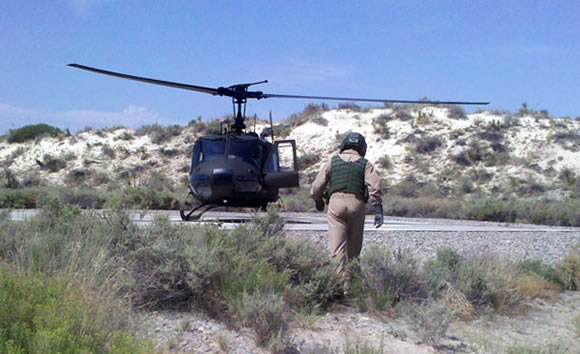 Early on the morning of August 15th, 2011 rangers received a report of two hikers who had been lost within the sand dunes overnight. They had planned on camping overnight on Sunday, but became disoriented while returning to their backcountry campsite.
The park and Alamo West Volunteer Search and Rescue began search operations under a unified command, with Holloman Air Force Base providing an unmanned aerial vehicle (UAV) to help with the search effort. With the help of the UAV, rangers were able to narrow the search area to within a quarter mile of where the lost hikers were eventually found. An Army air search and rescue unit out of White Sands Missile Range provided additional air support and spotted the lost hikers just after 11 a.m.
The pair, who had been lost for more than 12 hours, were found in the dune field more than eight miles from where they had left their car. Both were treated for dehydration and transported to Gerald Champion Hospital in Alamogordo. The park's military and community partners frequently provide critical air support for rescue operations, which greatly helps the success of rescue operations in the difficult terrain.