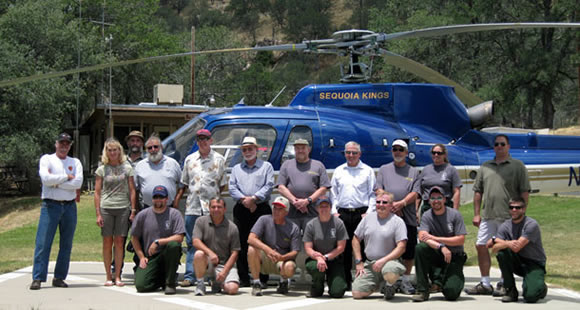 Sequoia and Kings Canyon National Parks Helitack Program celebrated 50 safe and successful years in 2010.
The term helitack, meaning "helicopter initial attack of wildfires," was first used in 1956 by the Los Angeles Times in an article describing operations involving helicopters transporting personnel to fight wildland fires.
Sequoia and Kings Canyon National Parks have one of the oldest programs in the National Park Service. The helitack operations in these parks have evolved and are used for initial fire response, wildland fire monitoring, search and rescue, wilderness support missions, and many other backcountry services.
Over the years the parks have safely flown numerous missions with an excellent safety record, including trips to Mount Whitney, the highest peak in the lower 48 states. Some of the more prominent leaders in the NPS fire history have served on the Sequoia and Kings Canyon National Parks helicopter, and the parks' program has helped to shape aviation policy and practices throughout the nation.
The parks held an event on June 12 that was attended by more than 30 alumni of the parks' aviation program dating back to the early 1960s. Additionally, residents and visitors were invited to meet crew members (past and present) and receive guided tours of the parks' helicopter.