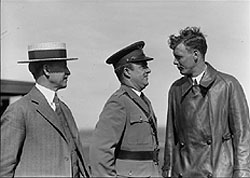 Throughout human history, many people have challenged themselves and each other to see who could be the "best." Aviators are no exception. From the dawn of flight up to the present day, pilots have been a particularly competitive group as they vied to see who could fly the fastest, the highest, and the farthest. Many of them have also battled to see who could achieve an aviation "first." To non-pilots, some aviators' actions in pursuit of these goals may have seemed foolhardy, careless, or even crazy and needlessly reckless. But in reality, these aviators were actually pushing themselves in a courageous and determined manner to move beyond their supposed mental and physical limitations to conquer their many challenges.
Whether pursuing a flight record, performing aerial tricks in front of crowds, or exploring new areas of the globe, they shared some of the same fearless qualities. In all, the aerial explorers, daredevils, and record setters of the 20th century have been a very intrepid and driven group of individuals, determined to bring out not only the best in themselves, but also in each other.
In July 1909, Louis Bleriot, a French aircraft designer and self-trained pilot, became one of the first record setters in aviation history. On July 25, Bleriot, piloting a monoplane, braved strong winds and rain to become the first person to fly across the English Channel. Bleriot's 37-minute journey between France and England was the first major flight over a large body of water. It also inspired several adventurous individuals to become aviators, as well as helping to spark the public's interest in flight. When the first organized international air meet took place in Bleriot's native land only a month after his trip, somewhere between 300,000 to 500,000 spectators flocked to the event.