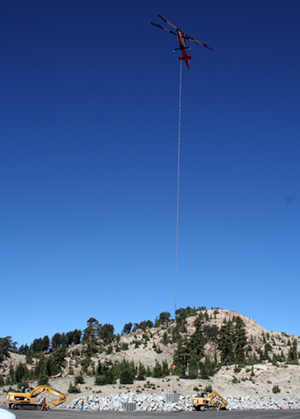 "Reach the Peak" is a five-year project that will construct a three-mile access trail from the Manzanita Lake developed area to Lassen Peak, create a new trail around the crater rim on top of the peak, and restore and widen sections of the existing Lassen Peak Trail. The park's Branch of Fire and Aviation orchestrated an airlift operation which included more than 700 sling loads over a period of eight days in August. The aviation operation transported more than 2.1 million pounds of rock from the peak parking lot to five different locations on the historic Lassen Peak Trail. Before the project was completed the helicopter recorded 46 hours of flight time.
The helibase was located in the Lassen Peak parking lot at 8,200 feet and the highest point to airlift the rock was at 10,000 feet. The rock was organized into three different sizes: rock weighing up to 300 pounds, rock equal to 175 pounds, and a small amount of large individual rocks weighing up to 500 pounds each.
Helicopter support costs included a helicopter manager, helicopter manager trainee, safety officer, three helicopter crew members, and 13 National Park Service trail crew members.