Providing for Firefighter Safety through Interagency Aviation Success
The National Park Service is working to improve the  provision of timely medical response to firefighters on remote wildland fires. One method gaining popularity among incident management teams is to provide short-haul capable helicopters and crews. The National Park Service has several well-established helicopter short-haul programs in the western national parks, some of which have been used to meet the demand on wildland fire incidents.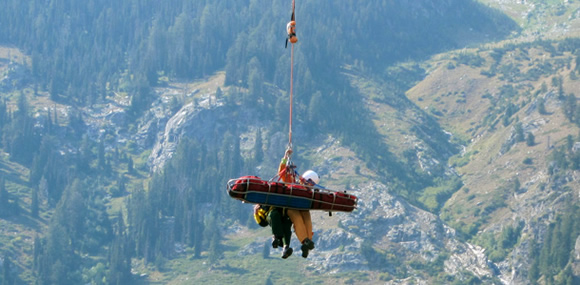 After using the Grand Canyon helicopter to short-haul an injured firefighter off the 2011 Las Conchas Fire, incident management teams requested an additional short-haul capable helicopter to support the massive 156,593-acre Las Conchas Fire. To fulfill the order, two short-haul-trained Jenny Lake Rangers from Grand Teton National Park flew to New Mexico to join the Teton interagency helicopter and helitack crew already assigned to the south side of the fire.
The crew performed one medical evacuation, but it was not a short-haul operation. Still, the 10-day assignment provided a unique opportunity for the helitack crew and the rescue rangers.
"We were able to complete proficiency training in short haul and train extensively with the helitack crew," said Park Ranger Ryan Schuster. "While most of the crew had worked with us on rescues in the park, this gave them the opportunity for much more extensive hands-on, short-haul-specific training."
Seasonal park ranger Gordon "G.R." Fletcher had the added bonus of working on his helicopter crew member task book during the assignment.
"We like to get involved with fire," Schuster said. "It was cool for us to go into their (helitack) world. Usually when helitack works with us on a rescue, it's pretty brief. This gave us the opportunity to work with the helitack crew more regularly and extensively."
In the 10 days Schuster and Fletcher were assigned to the Las Conchas Fire, several Incident Management Team (IMT) members and medical personnel talked with them about short haul, its capabilities, and when it makes sense to use it.
"They hear about short haul and they want it, but they don't necessarily understand it," Schuster said. "It's a quick and effective tool, but it isn't instantaneous. We have to do a risk analysis, reconnaissance flight, power checks, gear up, etc. We have to explore all the options. People often picture it as we fly in there and pluck the injured person out, but there's a lot that goes on before we get to that point.
"But short haul does provide rapid extrication when it's truly needed," he added. "You have to consider all the factors. What is the terrain? How many rescuers would you expose to hazards and for how long? Would you have to hike 30 firefighters in for 4 miles in steep, nasty terrain? You have to ask yourself, 'What's the exposure?'"
While the awareness of shorthaul is increasing, Schuster and Teton Interagency Helitack Supervisor Steve Markason both suggest the wildland fire community look beyond just short-haul for supporting injured firefighters.
"It's a great tool, but teams should be looking at all the options, rather than the few short-haul capable ships there are available," Markason said. "When we're on assignment, IMTs often assume we are short-haul capable because we're the Teton crew, but that's not the case. We are primarily a U.S. Forest Service crew on an interagency ship. Without the (NPS) rangers, we don't have that capability."
Currently, incident management teams and agency committees are coordinating and preparing for emergency response of injured firefighters. If the wildland community decides to train crews for short-haul, because of the unique partnership with Grand Teton National Park, and the Jenny Lake Rangers, the Teton crew could be a natural fit.
"Our crew would be good because we're so integrated with the park, and involved in park rescues," Markason said. "Otherwise short-haul involves a lot of exposure and the applications are so seldom, it would be difficult for a crew to maintain proficiencies."
One possible solution surfaced in 2010 when the Teton helicopter, again with short-haul-trained rangers, was supporting the Cow Creek Fire in Rocky Mountain National Park. Rocky Mountain Area Team B came up with several mitigation procedures to facilitate the evacuation if needed of an injured firefighter because crews were working in a very remote backcountry area of the park. These mitigation procedures could become standard procedures in similar situations. Crews built four helispots on or near the fire's perimeter and identified sling or short-haul sites. They ordered aircraft with the best capability to perform short-haul if needed. The team also assigned paramedics with advanced life support equipment to each of the helispots.
They also developed contingency plans for ground and aerial evacuation using the unique skills of Rescue Specialist Craig Holm, who has extensive experience with short-haul operations. Holm and Grand Teton Rescue Rangers Jim Springer and Darin Jernigan performed reconnaissance flights and visited helispots and medivac locations on the fire to evaluate terrain and firefighter exposures.
"That was effective," Markason said. "We could feasibly train specialists to do terrain, short-haul, and exposure evaluations to determine what tool to use. We could rate it using the green-amber-red checklist, and basically not put firefighters in the areas that score red unless we have appropriate mitigations."
With a limited number of trained crews and helicopters available, not many would be available for fire-specific response. What works well with the Teton interagency helicopter and crew is being able to support local fires, like the Red Rock Fire on the Bridger-Teton National Forest or the Norton Point Fire on the Shoshone National Forest. The helicopter was listed on the medical plan as short-haul capable upon request. A trained specialist also conducted the initial risk assessment on the Red Rock Fire, in case the need arose for a short-haul operation.
But until the wildland fire community comes up with alternatives, Schuster said the rescue rangers are happy to help. "Obviously the current formula isn't sustainable, because there aren't enough of us to go around," Schuster said. "But we love being able to respond to fires. It's great for our rangers to diversify."
Last updated: December 14, 2017