Aviation Supports Environmental Protection Agency Research in South Florida
The National Park Service continues to extend its aviation support beyond the traditional fire realm. Everglades and Big Cypress National Parks' Aviation programs are working together with the US Environmental Protection Agency (EPA) to support a complex aviation-dependent research project called the Everglades Ecosystem Assessment Program (EEAP).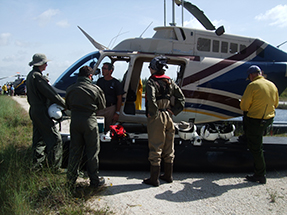 The EEAP is a continuing effort to monitor surface water, soils and sediment, vegetation and fish for contaminants in the freshwater flow way of the Everglades ecosystem. Data collected "allows us to show spatially where problems are occurring and where things are getting better," says Peter Kalla, lead EEAP scientist. "It provides information on the success of the Everglades restoration and provides feedback for the Comprehensive Everglades Restoration Plan."
The project is unique in its complexity due to its reliance on aviation resources and the extent of research being conducted. An extensive helicopter float project is required, using multiple aircraft operating simultaneously to complete data collection. "We rely heavily on helicopters and would not be able to have this program without the use of them," says Kalla.
Early in the planning process, the EPA recognized the NPS as a leader in aviation expertise and approached the park service requesting aviation assistance for the project. "The National Park Service and the Department of the Interior are held to additional standards above what the Federal Aviation Administration requires, including following strict standards for pilot qualifications when operating in south Florida conditions, flight following, aircraft, and equipment. This applies for both NPS and vendor aircraft," says Meg Gallagher, NPS Eastern Regional aviation manager. "This is an excellent opportunity to strengthen and build partnerships, as well as an occasion to examine our aviation safety program, and then be able to explain to the EPA why we have our policy, training, and required equipment in place."
The EEAP project is a collaborative effort among the EPA, NPS, U.S. Fish and Wildlife Service, South Florida Water Management District, Florida International University (FIU), and HMC Helicopters. "The National Park Service is not only providing expertise in aviation, but is also a major funding partner for the project," says Peter Kalla.

The EPA and NPS staffs are embracing NPS aviation standards and policy as well as the EPA research protocols. Although the National Park Service Aviation program works extensively with researchers, the degree of research entailed is complex. "I was amazed at the amount of information, standards, and specifications for where to land and what to sample," says Gallagher. "Their strict protocols are impressive."
In June 2013, NPS aviation staff conducted helicopter safety training and water ditching survival classes at the University of Georgia in Athens, Georgia. The classes were designed to offer the researchers the appropriate skills needed to work safely around helicopters and to exit an aircraft in the event of an inadvertent aviation mishap.
Everglades and Big Cypress aviation staff supported the first of 19 days of field work in late July 2013. Approximately 40 researchers from EPA and Florida International University worked with NPS aviation staff to perform safety training and test flights for the upcoming research project.
The EEAP study will be conducted in September and October 2013. Approximately, 125 water quality sites have been randomly selected for freshwater sampling in Loxahatchee National Wildlife Refuge, South Florida Water Management District Conservation Areas 2 and 3, Everglades National Park, and Big Cypress National Park and Preserve.
Last updated: December 7, 2017