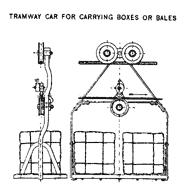 The Alaska Railroad and Transportation Company (AR&T), also known as the Alaska-Pacific Railway Company or the Oregon Improvement Company, was one arm of the vast Pacific Coast Steamship Company, a corporation which operated both railroads and steamship lines along the West Coast.47 Completed after the Dyea-Klondike Transportation Company's setup, the AR&T operation boasted a longer length, more freight-carrying capacity and higher technological sophistication than the DKT tram. The AR&T tram, in turn, was outclassed by the still larger Chilkoot Railroad and Transportation Company operation, which was the last of the three aerial trams to open.
The AR&T showed interest in the area in the early days of the gold rush. In early December 1897, the company established a claim for a trade and manufacturing site in Pyramid Harbor, twenty miles to the south of Dyea. In late December 1897, company representative A. R. Cook located a 36 acre wharf site on the east side of Taiya Inlet, approximately two miles southeast of Dyea. Soon afterwards, he also located a ten acre site a mile north of town for a "station and warehouse." By mid January, Cook had also filed for a ten acre depot and warehouse site, "twelve miles from Dyea, near Sheep Camp." The company's supposed intention, at that time, was to build a railway line north, but nothing more was ever heard of that plan.48
Unlike its competitors, the AR&T did not advertise in the local newspapers, and news about the construction of its tramway did not identify the company by name. The other two tramways were also being constructed at this time, therefore, it can only be assumed that sometime after mid-January, the company abandoned its railroad plans. Officials probably intended that the railroad would operate as far as the tramway site, but no railroad was ever begun.