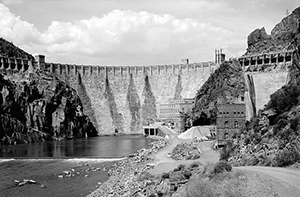 Black and On March 18, 1911, President Theodore Roosevelt traveled by automobile parade through the rugged Arizona terrain to dedicate Roosevelt Dam. A crowd of nearly 1,000 followed in the dust, eager to witness their "Teddy" dedicate the great dam, built to store water that would, in time, transform desert soil into fertile farmland and little Phoenix into an urban center. Completion of the dam inspired a song that praised the President who championed the reclamation of Arizona's sunny valley. It chimed,
 "If you miss me when the blizzards blow, then you'll know where I am/ And you can join me down in Phoenix where Teddy built the dam." 
The dam—and later, its hydroelectric powerplant—brought stability and hope to Arizona, as part of the Federal Government's new Salt River Project that reclaimed more land for farmers and, for the first time, brought electric power to area homes. Standing on the crest of the massive dam named in his honor, Roosevelt proclaimed the 1902 Reclamation Act, along with the Panama Canal, as his administration's top achievement.
Water was always key to habitation in the harsh desert of the 12,000-square-mile Salt River basin. Named for its brackish waters, the Salt River begins high in the White Mountains of eastern Arizona and flows southwesterly for more than 200 miles, converging with the Gila River just west of Phoenix. The basin once was home to the Hohokam people who, beginning in about 300 A.D., dug a sophisticated network of canals and ditches, and farmed the valley for centuries. Mysteriously, the Hohokam culture vanished around 1450 A.D. Then, the Pima and the Maricopa Indians farmed the area using irrigation. In the late 1600s, Spanish priests arrived, exerting their energy in mission work, but also in irrigating their gardens with the construction of acequias, or community ditches.