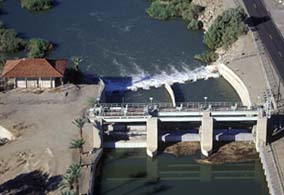 From its headwaters high in Rocky Mountain National Park to its mouth in the Gulf of California, the Colorado River cuts through 1,450 miles of mountains and valleys, forest and desert. Before it was dammed, the Colorado was a mighty river, gouging canyons and swelling to a torrent when it was angry. On its lower reaches, the Colorado ran so wild in 1862 that it washed away the nascent town of Yuma, Arizona, forcing the few hundred residents to start anew. When they rebuilt, there was no turning away from the river because without it, there would be no Yuma.

Today, with a population nearing 100,000, Yuma is an agricultural oasis made possible by irrigation works like Laguna Dam, on the Colorado River 13 miles northeast of town. At the outset, Laguna was a diversion dam, channeling water from the Colorado River to irrigate millions of acres of farmland. Wheat and cotton, lemons and tangerines, cauliflower, broccoli and lettuce turned the desert green. Yuma became famous for its lettuce--head lettuce, leaf lettuce and Romaine lettuce, a bounty celebrated every January at Yuma Lettuce Days. 

Agriculture in the Yuma Valley was nothing new; the Quechan Indians used the Colorado to irrigate their fields as far back as the year 1000. But modern agriculture on the Colorado dates to 1909 and the opening of Laguna Diversion Dam, the first of many to be built on the Colorado, which, on its lower reaches, forms the border between Arizona and California. Laguna diverted river water into the Yuma Main Canal. Beginning on the California side of the river, the canal carries water southwest to fields in Imperial County, California, and the Yuma Valley in Arizona. 

To enter Arizona the canal has to re-cross the Colorado River, which it does through an inverted siphon buried in the heart of downtown Yuma. The Colorado River Siphon, as it is called, is a concrete tube, 14 feet in diameter and dug 50 feet under the sandstone riverbed. The siphon acts like a tunnel; water in the Yuma Main Canal enters through an inlet on the California side, swirls 76 feet down through a vertical shaft, enters the tube, then bubbles up on the Arizona side. This curiosity can be seen by visitors who walk along the path at Yuma's historic Quartermaster Depot, which is listed on the National Register of Historic Places. The siphon, which delivered water to the Arizona side of the Colorado River for the first time on June 29, 1912, is just one component of the Bureau of Reclamation's Yuma Project, authorized by Secretary of the Interior Ethan A. Hitchcock on May 10, 1904.