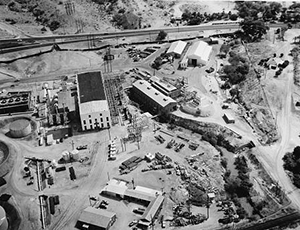 Beginning around 300 B.C., the Hohokam practiced irrigated agriculture in the Salt River Valley of Arizona. Hohokam farmers dug hundreds of miles of canals, some as much as 30 feet wide and 10 feet deep – a remarkable accomplishment achieved with only hand tools and human labor in this land of extremes. The Salt River can be bone-dry one month and a flooding torrent the next, when the winter rains come or the snowmelt rushes down from the White Mountains, where the Salt originates. Named for its brackish waters, the Salt River rises in eastern Arizona and flows southwesterly for more than 200 miles before converging with the Gila River just west of Phoenix.
 The Hohokam built their complex irrigation system, said to rival those in ancient Egypt and China, on both sides of the Salt, leading to the growth of stable urban centers populated by as many as 50,000 people in the basin alone – and this in the midst of Arizona's Sonoran Desert, where temperatures can reach 120 degrees. Then, sometime around 1,400 A.D., the Hohokam abandoned the settlements they had called home for at least 1,700 years. When the Spanish arrived less than a century later, they found Indian peoples living along the Salt on lands previously occupied by the Hohokam, still farming using canal irrigation. Today, the Pima (Akimel O'odham) and Papago (Tohono O'odham) believe the Hohokam—a Pima word meaning "those who have gone"—to be their ancestors.
Some archeologists link the ancient Hohokam's departure to environmental circumstances such as droughts or repeated flooding. Or perhaps the intensive irrigation created waterlogged soil. Waterlogging deprives plants of the oxygen needed to grow, and can also build up amounts of salts in the soil sufficient to kill crops.