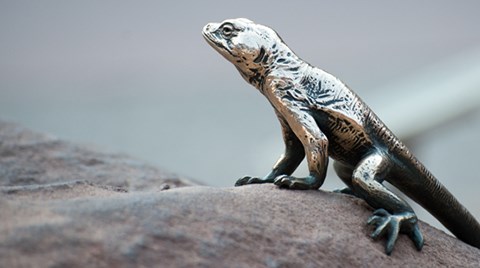 Although Arches National Park is more famous for its rock formations than its animals, some very impressive specimens can always be found at the visitor center. They are unafraid and approachable, and pose patiently for endless photographs.
These monuments are the work of sculptor Matthew Gray Palmer of Friday Harbor, Washington. Commissioned in 2005 for the new visitor center, the sculptures include a life-size desert bighorn sheep ram, ewe, and lamb, as well as two ravens, a whiptail lizard, and a collared lizard.
Bighorn sheep are native to the park. Numerous petroglyphs indicate that American Indians saw – and no doubt hunted and possibly revered – these impressive creatures. After the original population was nearly extirpated through disease, 25 bighorn were re-introduced to Arches from nearby Canyonlands National Park in the 1980s.