Sculpting Wildlife at Arches National Park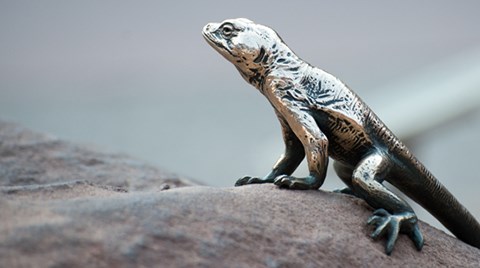 Although Arches National Park is more famous for its rock formations than its animals, some very impressive specimens can always be found at the visitor center. They are unafraid and approachable, and pose patiently for endless photographs.
These monuments are the work of sculptor Matthew Gray Palmer of Friday Harbor, Washington. Commissioned in 2005 for the new visitor center, the sculptures include a life-size desert bighorn sheep ram, ewe, and lamb, as well as two ravens, a whiptail lizard, and a collared lizard.
Bighorn sheep are native to the park. Numerous petroglyphs indicate that American Indians saw – and no doubt hunted and possibly revered – these impressive creatures. After the original population was nearly extirpated through disease, 25 bighorn were re-introduced to Arches from nearby Canyonlands National Park in the 1980s.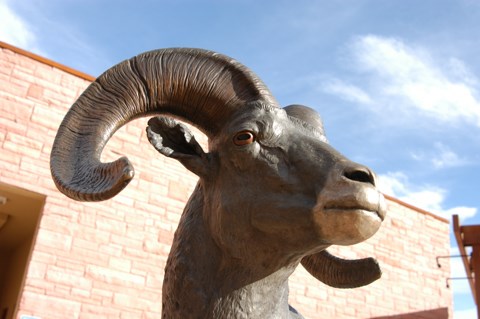 The sculptures provide a close-up look at these magnificent animals. To make the sculptures, the artist first made life-size wax models of the animals. A mold was made from the wax, into which molten bronze was poured. Additional details are worked into the bronze by hand to make the pieces as realistic as possible.
According to the artist's website, Palmer "began to think big at an early age." Passing up major scholarships from several art institutes, he opted for hands-on training, gaining skill in using a variety of media including stone, clay, marble, and bronze. In 1995 he started Parallaxis with the goal of educating people about conservation and the natural world through art. From his studio on San Juan Island, he devotes his time to a variety of projects and commissions. His monument installments can also be seen at the Columbus Zoo, the Toledo Zoo, and the Kroger Equestrian Center, all in Ohio.
"I think the great thing about the project at Arches," Palmer said, "in addition to the tremendous honor of having my work integrated with one of the most beautiful places in the country, is the use of the arts as an interpretive vehicle for the park. The arts are a natural complement to the predominantly immersive experience that visitors enjoy, particularly with the profound visual and tactile impact of the landscape at Arches. As visitors to our national parks, we seek an encounter with beauty and the sublime. The arts have always been a means to express this form of connection and if they can impart information about a place, a time, or its inhabitants, then that is a perfect combination."
As you enjoy and appreciate these additions to the visitor center, please remember: Please don't feed the animals (or climb on them, either!).
Photo Gallery
Last updated: February 4, 2019