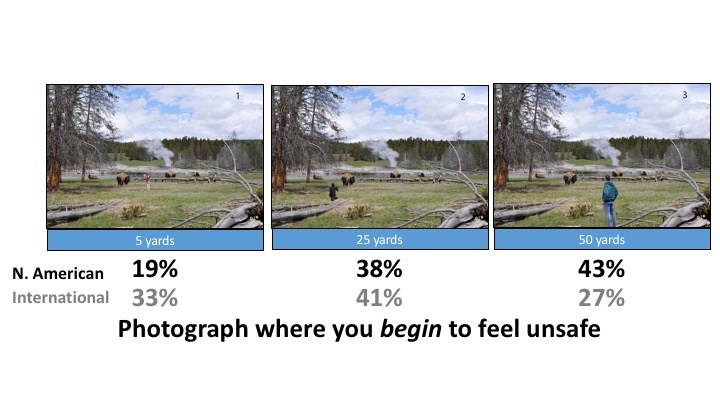 Communicating with International and North American Visitors about Bison Safety

by Zachary D. Miller, Wayne Freimund, & Tami Blackford
Wildlife viewing is one of the primary motivations for visiting national parks (Manfredo 2008), and visitors come from all over the world to experience the abundant wildlife viewing opportunities of Yellowstone National Park (YNP). However, free-roaming wildlife coupled with record levels of visitation means that human-wildlife conflicts are bound to happen. For instance, in the summer of 2014, five visitors were gored by bison. To address human-wildlife issues, park managers often rely on communication (i.e., interpretation and education) with visitors. Recent human-wildlife incidents illustrate that it is more important than ever that communication sources are effective in reaching park visitors and encouraging them to adopt appropriate behaviors around wildlife.

Yet visitation in YNP is not just growing, it is also changing. In particular, international visitation is making up a larger proportion of YNP visitors. Very little research has considered international visitor experiences in YNP. The research that does exist explores some of the differences among North American (from the U.S. and Canada) and international visitors regarding communication preferences and perceptions about safety while viewing bison (Miller, Freimund, and Blackford 2018).
Researchers from the University of Montana contacted over 1,000 visitors in the Old Faithful and Hayden Valley areas of YNP during the summer of 2015 (Miller, Freimund, and Blackford 2018). Of the visitors who spoke English well enough to engage (94.3%), 890 agreed to participate (response rate = 85%). North American visitors were about 85% of the sample. International visitors represented every continent except Antarctica. The most frequent non-North American countries of residence were Germany (2.9%), China (1.9%), The Netherlands (1.9%), and The United Kingdom (1.9%).

When viewed collectively, North American and international visitors were using information sources (i.e., signs, map/brochure, newspaper) in almost the exact same ways. North American and international visitors used about the same number of information sources (2.3 and 2.4 on average, respectively). Additionally, both groups used information sources at about the same rates. Lastly, there was no practical difference between North American and international visitors in how helpful they found the information sources.

This research also explored perceptions about safety while viewing bison. Visitors viewed three images and selected one of the images to answer the question, "Which of the following images best shows the distance where you would begin to feel unsafe viewing bison from?" (figure 1). There were significant differences between North American and international visitors. In general, international visitors chose the images that represented closer distances between visitors and bison. For instance, 14% more international visitors chose the image representing 5 yards between the bison and visitor as the distance they would begin to feel unsafe while viewing bison.

Results from this research indicate that although North American and international visitors were using information sources in the same ways, there were significant differences between the groups regarding perceptions about safety while viewing bison. International visitors tended to begin to feel unsafe at closer distances to bison than did North American visitors. If these beliefs lead to visitors actually getting closer to bison in YNP, it presents a safety issue for managers, visitors, and wildlife. Thus, park managers may need to specifically improve communications with international visitors about bison-visitor interactions.

However, there was a substantial proportion (18.9%) of North American visitors who also indicated they did not begin to feel unsafe viewing bison until they were at a distance of 5 yards from the bison, far closer than the recommended 25-yard distance. Although international visitors may be of particular concern due to unique language barriers and cultural differences, from a practical point of view, communications about viewing bison in YNP need to be improved for all visitors.

One approach to improving communications would be to promote information sources visitors rated as more helpful. Some of the most used information sources in YNP were rated as less helpful than other information sources. Park managers may want to direct visitors to the information sources that were rated the most helpful, which include educational groups, personal communication with rangers/employees, and interpretive programs. Additionally, because the most helpful information sources were all face-to-face forms of communication (not digital or print), providing more opportunities for these types of contact may also prove useful.

Another approach would be to include additional information in communication resources. For instance, international visitors may have less of an embedded idea about what wilderness/wildness is or may have different perspectives about national parks from previous visits to parks in other countries. This presents an excellent opportunity for YNP managers to tell the unique story of national parks, and how and why the national parks differ from other protected areas people may have visited. Including this type of information may encourage visitors to behave in more appropriate ways around wildlife.

Lastly, it is important to recognize that the "why" messages (i.e., bison are dangerous, respect bison's space) are just as (or more) important than the "what" messages (stay 25 yards away from bison) in motivating visitors to adopt appropriate behaviors. People need reasons to care. Social theories, such as the theory of planned behavior (Ajzen 1991) may help inform this process. Incorporating content about attitudes, subjective norms, and perceived behavioral sources would potentially make information sources more effective in persuading visitors to adopt appropriate behaviors around bison and other wildlife. By motivating visitors with messages that are important and relevant, it becomes more likely that they will adopt appropriate behaviors (Petty and Cacioppo 1986).

Literature Cited
Ajzen, I. 1991. The theory of planned behavior. Organizational Behavior and Human Decision Processes 50:179–211.
Manfredo, M.J. 2008. Who cares about wildlife? Social Science concepts for exploring human-wildlife relationships and conservation issues. Spring Science & Business Media, LLC, New York, New York, USA.
Miller, Z.M., W.A. Freimund, and T. Blackford. 2018. Communication perspectives about bison safety in Yellowstone National Park: a comparison of international and North American visitors. Journal of Park & Recreation Administration 36(1): 178-186. 36,1: 178-186.
Petty, R.E., and J.T. Cacioppo. 1986. The elaboration likelihood model of persuasion. Pages 123-205 in L. Berkowitz, editor. Advances In experimental social psychology. Academic Press, New York, New York, USA.