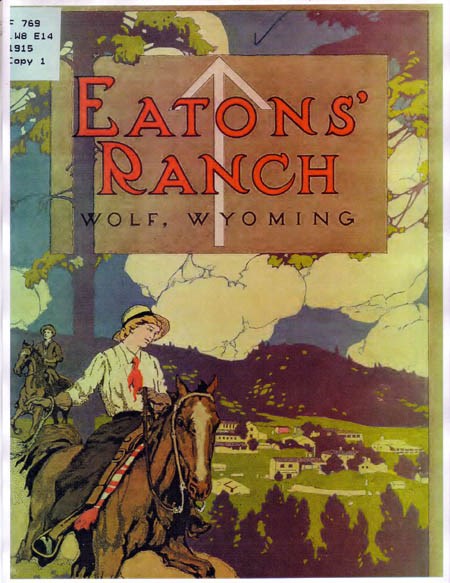 Howard Eaton's Yellowstone Tour
by Judith Meyer
Howard Eaton was one of Yellowstone National Park's (YNP) most famous and beloved concessioners who introduced hundreds of tourists to the wonders of Yellowstone between 1883 and 1921, and whose saddle-horse tours contributed to Yellowstone's popularity during the park's formative years. In 1923, one year after Eaton's death, the National Park Service (NPS) named a newly-completed, 157-mile bridle and hiking trail for him. The Howard Eaton Trail dedication ceremony was attended by movers and shakers from throughout the ranks of national, regional, and local government, attesting to Eaton's wide notoriety and respect.

Eaton's clients were wealthy, educated Easterners who traveled by railroad to Gardiner, MT, and then spent the next two weeks on horseback with Eaton as their guide. They slept in tents and ate their meals outside—a Yellowstone experience very different from the more typical one of traveling by stagecoach, sleeping in hotels, and eating in dining rooms. Howard Eaton's colorful marketing brochures promised his guests they would be "roughing it with comfort" while enjoying "a harmony of wilderness and civilization" on the trail. Even a quick glance at Eaton's brochures reveals his keen understanding of what Easterners wanted of a Western experience; appealing to their sense of adventure and desire to spend time outdoors reliving the rugged frontier, but with all the convenience and safety of civilization.

If Eaton and his tours were so popular, what was it like to travel with Eaton? Where does Eaton's trail-ride-tourism fit in to the broader context of a "Yellowstone experience" and a unique "sense of place" for Yellowstone as a national park? These are questions for historical and humanist geographers. Geographers study not only the environmental and cultural characteristics of locations on Earth's surface but the personal, human response to those places as well. This "sense of place" describes how people experience a place as a combination of their own real experiences in combination with their expectations of what that place means (Tuan 1975).

Yellowstone has three qualities that make it an especially good study site for understanding sense of place. First, it has a rich history of meanings as a result of its almost 150 years as a national park (Meyer 1996). Second, much of Yellowstone's historical record has been preserved not only on the landscape, but in the museum and archives at the Heritage Research Center (HRC). Hence, evidence of people's experiences in the park have been preserved, catalogued, and made available for study. Third, studying people's sense of place for Yellowstone has value. Yellowstone's managers have the unenviable task of trying to make Yellowstone serve the needs of many different publics. Understanding how and why people feel the way they do about the park can help inform management decisions.