Archaeological District in Minnesota Links Past and Present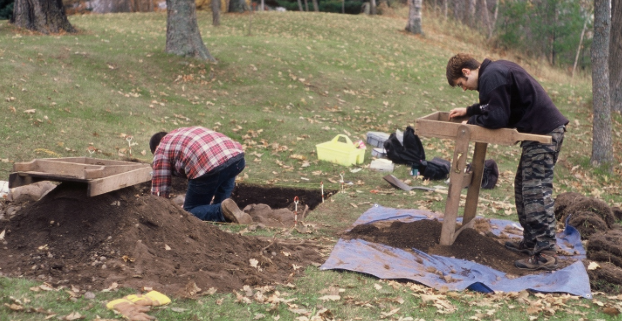 Resorts situated along the beautiful shores of Lake Mille Lacs in east central Minnesota, some two hours north of the Twin Cities, have drawn eager vacationers to the region for nearly 100 years. Centuries earlier, however, those same shores were dotted with countless Native American villages whose occupants exploited the lush fishery, abundant game, and bountiful stands of wild rice.
The chain of smaller lakes formed at the Rum River drainage, joining Lake Mille Lacs ultimately to the Mississippi River, was particularly attractive for Native settlers prior to the time of European contact. The French explorer Daniel Greysolon, Sieur DuLhut (Duluth), would encounter the Dakota here in 1679, but by the middle of the 18th century the region was occupied by Ojibwe groups driven west from their homelands by European expansion. An 1855 treaty established the 61,000‐acre Mille Lacs Reservation, and today the Ojibwe still have a major presence on the southwest shore of the lake.
Secretary of the Interior Stuart Udall designated the Kathio Site Archaeological District, comprising 17 related sites, a National Historic Landmark in 1964 for its potential to provide significant insights into the profound changes that were wrought among native peoples during the early Historic period. The district's nearly 13,000 acres include all of Mille Lacs Kathio State Park, a large portion of the Ojibwe Reservation, and several privately owned land parcels.

Stewardship of the NHL district has been exemplary among all parties, but particularly within the state park where managers have undertaken important resource preservation and interpretation efforts in recent years. Public programming, exhibits at the visitor center, a self‐guided tour at one of the prominent archeological sites, and the new 1.5 –mile Landmark Trail all interpret the importance of this NHL to park visitors.

Visitors to the area can learn more about Native American history at the Mille Lacs Indian Museum, operated by the Minnesota Historical Society on the Ojibwe Reservation 12 miles north of Onamia. Other information relating the history of this culturally significant area is available at the tribal website www.millelacsojibwe.org.
---
Originally published in "Exceptional Places" Vol. 2, 2007, a newsletter of the Division of Cultural Resources, Midwest Region. Written by Virgil E. Noble.
Last updated: July 2, 2018