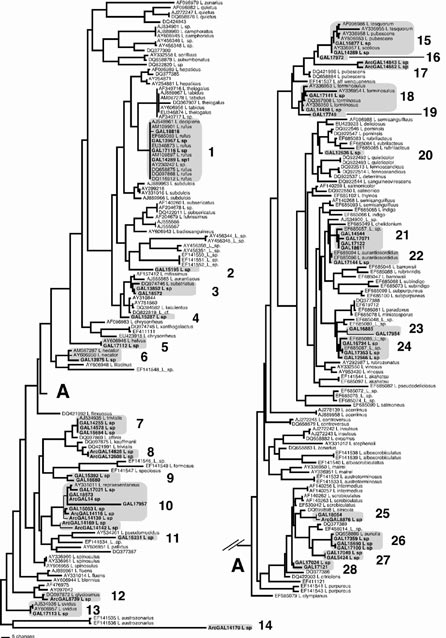 Abstract 
Despite the critical roles fungi play in the functioning of ecosystems, especially as symbionts of plants and recyclers of organic matter, their biodiversity is poorly known in high-latitude regions. Among these, Beringia, including Alaska and north-eastern Siberia, has long been a focal point for biogeographical research in a wide range of plant and animal taxa. However, the biodiversity and biogeography of  fungi in Beringia are virtually unknown. We analyzed DNA sequence data from various boreal and arctic macrofungi using phylogenetic and coalescent methods to assess the genetic diversity at the species and intraspecific levels. Our results suggest that Beringia, particularly Alaska, harbors very diverse fungal communities and that most arctic and at least some boreal fungal taxa survived the last glacial maximum in Beringia.
Introduction 
Climatic changes in the Quaternary have dramatically influenced the distribution of mycota, flora and fauna in high-latitude ecosystems, and had major impacts on past speciation events and present population structures. While plants and animals have been extensively studied, very little is known about the community and population structures of fungi in arctic and boreal biomes. This is particularly undesirable, because fungi play key roles in the decomposition, mobilization, and the transfer of nutrients to plants in these nutrient-poor ecosystems. 
Beringia, including Alaska and north-eastern Siberia, has long been a focal point for biogeographical research in a wide range of plant and animal taxa. This high level of interest arises for two principal reasons. First, due to its diverse landscape and climate and the fact that much of the region remained ice-free during glacial maxima, Beringia served as a refugium for arctic and subarctic flora and fauna (Adams and Faure 1997, Brubaker et al. 2005, Edwards et al. 2000, Hultén 1968). Second, during much of the Tertiary and Quaternary periods, Beringia was the major land con-nection between Asia and North America and provided migration routes to a wide variety of organisms (for example, see Elias et al. 2000; Qian 1999, Swanson 2003). 
As opposed to plants and animals, there has not been a comprehensive cataloging of fungi in Alaska, and the richness and biogeograhic origins of Beringia's mycota remain unknown. Therefore, one of our primary goals was to initiate the first biodiversity assessment of boreal and arctic fungi in Alaska, con-ducting genetic analyses based on curated sporocarp collections. Here, we present an example of a genus-wide diversity assessment in the ectomycorrhizal Lactarius Pers.
Beside exploring species-level diversity, we hypothesized that, similar to patterns documented in various plants and animals (e.g., see MacNeil and Strobeck 1987,  Sperling and Harrison 1994, Abbott and Comes 2003), high intraspecific genetic diversity can be found in Beringian  fungi. To test it, we sampled populations of selected boreal and arctic fungi from regions across the Northern Hemisphere and carried out phylogenetic and coalescent analyses. 
Methods 
For the genus-wide diversity assessment of Lactarius,  383 specimens were collected and deposited in the Mycological Herbarium (GAL) at the University of  Alaska Fairbanks (UAF). To reduce redundancy, 58 of these, representing morphological groups and geographic  areas of origin among the collections, were selected for molecular work. Nucleotide sequences of the de-sired portions (ITS and LSU rDNA) of the DNA samples were obtained using standard molecular protocols (DNA extraction, polymerase chain reaction, cycle sequencing etc.). Additional sequence data of all Lactarius species available in GenBank was downloaded and in-corporated into multiple sequence alignments and phylogenetic analyses for reference. Putative Alaskan species groups were detected as phylogenetic groups of sequences.
Four species (Amanita muscaria, Lichenomphalia  umbellifera, Flavocetraria cucullata, and Flavocetraria nivalis) were chosen for intraspecific analyses, based on their circumpolar distributions and the availability of  materials from the major northern geographic regions. Molecular data was obtained as described above and was subjected to phylogenetic and coalescent analyses to  study the population histories and characteristics.