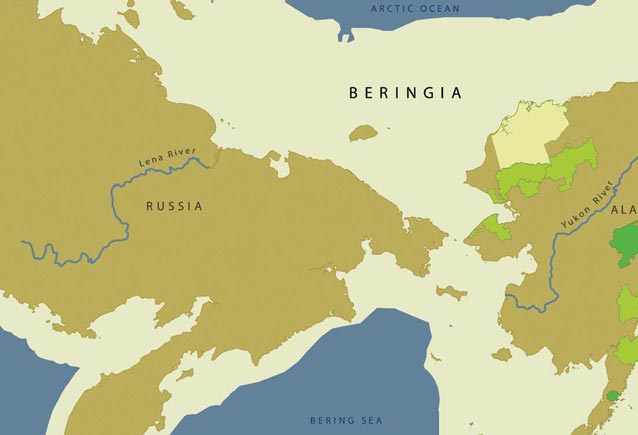 National Park Service units in Alaska contain some of the most informative fossil-bearing rocks anywhere in North America. These park units fall within the dynamic subcontinental region denoted by "Beringia," the hypothesized land bridge connection between Asia and North America during the Plio-Pleistocene (Hultén 1937). By linking similar aged rock units in National Park Service lands with the fossil resources found on other federally-administered public lands, important paleoecological insights on specific ecosystems can be obtained. Here we provide summa-ries of how pertinent regions address the antiquity of terrestrial Beringian ecosystems, the implications of this antiquity, and  uggest that the NPS–Alaska Region is ideally situated to adopt leading roles in exploration of this concept.
Role 1: Sites for field research on Cretaceous Beringia 
Late Cretaceous rocks of Denali National Park and Preserve (Denali), Yukon-Charley Rivers National Preserve (Yukon-Charley), Wrangell-St. Elias National Park and Preserve (Wrangell-St. Elias), and the North Slope of Alaska provide some of the most significant opportunities to examine a regional ancient terrestrial ecosystem in detail. Additionally, paleontological work on similar aged rocks in southwestern Alaska in Aniakchak National Monument has shown that this ecosystem is recorded across the state (Fiorillo and Parrish 2004). This ecosystem supported a rich dinosaurian fauna as well as other fossil vertebrates such as mammals, birds, and fishes (Fiorillo 2006, Gangloff 1998). The  floral component of this ecosystem also was diverse and included angiosperms, gymnosperms, and ferns.
The Cantwell Formation is an extensive rock unit exposed throughout much of Denali and is now known to contain thousands of fossil vertebrate footprints (Fiorillo et al. 2007, Fiorillo et al. 2009). The rock unit is thousands of meters thick and consists of an upper, dominantly volcanic unit and lower, dominantly fluvial unit. Pollen analysis for the lower Cantwell Formation shows the rock unit to have been deposited during the latest Cretaceous. Sedimentation was dominated by stream and lacustrine environments, at times with a marginal marine influence. The vegetation at the time was dominated by conifer forests, and a mosaic of angiosperms in the forest understory.
Unnamed rocks in Yukon-Charley have been mapped as Cretaceous-Tertiary in age based on fossil floral remains (Brabb 1965, Dover and Miyaoka 1988). The depositional environments of these rocks, like the Cantwell Formation, represent rivers and floodplains. Given that they may be similar in age to those in Denali they are included here. The forest of this park unit was dominated by Metasequoia. No dinosaur remains have been found in these rocks.