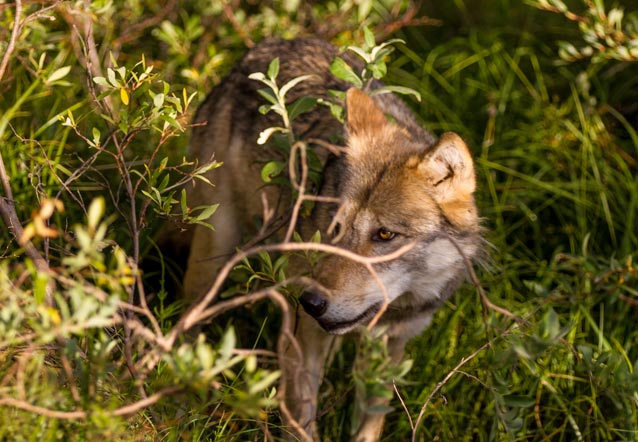 In Denali National Park and Preserve (Denali), groups of migrating wolves that depend on caribou compete sea-sonally with groups that interact with moose and caribou primarily in fixed areas over annual (biological-year) time steps.
Other groups interact with caribou, moose, and sheep in fixed areas without this seasonal competition (no wolf migrations). Caribou migrate predictably across much of the region for decades, then shift their ranges within the region and to other regions (Haber 1977, Mech et al 1998).
These foraging-related variations provide examples of the multiple- and cross-scale spatial-temporal interactions that characterize systems in general and are important to recognize for research and management purposes (Gunderson and Holling 2002). They can also help to clarify the biological and management significance of wolf social groups. In previous publications (Haber 1996, 1999), I pointed to the decades-old Toklat and Savage groups of Denali in questioning the view that groups are generally short-lived and thus relatively unimportant.
I argued that it is more accurate to think in terms of mixed mosaics of persistent and shorter-lived groups—that groups, rather than populations, are the primary functional units under natural conditions. [A "group" of wolves means a family or extended family in this paper, with the exception of the three as yet non-reproducing and apparently unrelated Eagle wolves in winter 2005-06 (Figure 2)].
Here, I consider details of the Denali foraging variations, what they imply about the varying extents to which the wolves develop and maintain social groups, and the significance of these groups.
Methods
I obtained wolf and prey data by summer ground observation at dens, rendezvous sites, and elsewhere in one of the areas (eastern—Figure 1) from 1966-2006, and by year-round aerial observation throughout all three areas.
My field methods, data analyses, and the study area are described in detail in Haber (1977, 2002); the study area is also described in Mech et al. (1998). The most intensive winter observations were from small aircraft in 1969-1975 and 1995-2006.