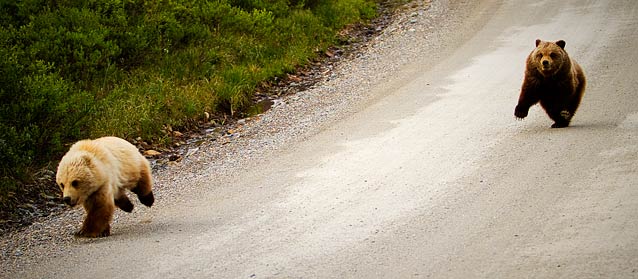 Introduction
Grizzly bears (Ursus arctos) provide viewing opportuni-ties for visitors to Denali National Park and Preserve (Denali) both along the one road into the park and in the backcountry and provide an important resource the park is mandated to protect. Monitoring of grizzly bears is conducted by following and observing radio-instrumented individuals. Conventional radio telemetry is used to locate bears and determine number of cubs born to marked females and survival of bears in selected age classes.


Methods
Grizzly bears were captured by aerial darting from a helicopter to attach radio collars and radio tracked approx-imately twice per month from den emergence in Spring to den entrance in Fall. Visual observations from fixed-wing aircraft and from the ground were used to determine whether bears died, cast their radio collar, or exhibited collar failure. Counts of attendant young were made during two periods (pre- and post- 30 June).

Cubs and yearlings that were seen pre-30 June, but not observed during later observation attempts were considered dead (no yearling dispersal). We were unable to verify the fate of 2 and 3 year old bears that were not radio-collared. These bears could have either died or dispersed, and thus were omitted from analyses. We estimated the survival rate of four age classes of grizzly bears: adults (6+ years old), independent subadults (2-5 years old), yearlings (1 year old), and cubs of the year (<1 year old). The methods of Hovey and McLellan (1996) were used for analyses.