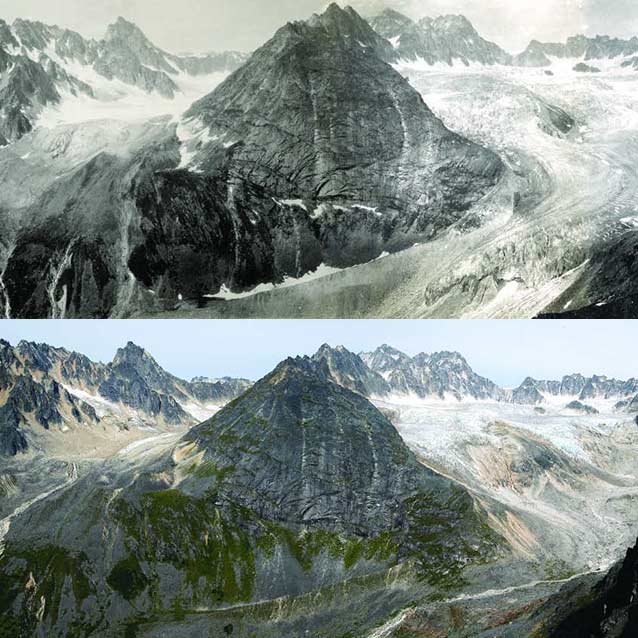 Introduction

Climate and topogra-phy are the primary driv-ers of glacial systems, and glaciers record the trends for all to observe. The climate is constantly changing, and glaciers have responded through time, with evidence of advance and retreat cycles recorded in the geologic record. The growing evidence of unprecedented warming rates and wide ranging effects is well document-ed, recently in the com-prehensive and international Arctic Climate Impact Assessment (2005). There are substantial and far reaching impacts of a warming climate, but few are as dramatic and visible to national park visitors as changes to glacial systems.

Glaciers are a significant geologic feature of Denali National Park and Preserve, cur-rently covering approximately 17 percent or 1,563 square miles (4,047 km2) of the park. Highly sensitive to changes in temperature and precipitation, glaciers dynamically react to climatic drivers by thickening and advancing during periods of increased accumulation, and thinning and retreating during periods of increased ablation. Alteration of the Denali cryosphere directly influences the physical landscape, the local hydrologic regime, and the diversity and spatial distribution of biologic com-munities in the park. Understanding the scale and pace of past glacial system changes in Denali provides critical insight into how these processes may continue in the future.

Glacier monitoring in Denali has taken various forms since the early 1900s, with early explorers, visitors, and managers documenting the landscape through pho-tography or descriptive field notes, to more recent mass balance monitoring and detailed measurement of change in glacial extent through formal surveys and satellite imagery. The composite data presented herein characterize the ongoing change in Denali and tell a compelling story of glacial retreat, dramatically illustrated through comparative photography and supported by detailed measurements.