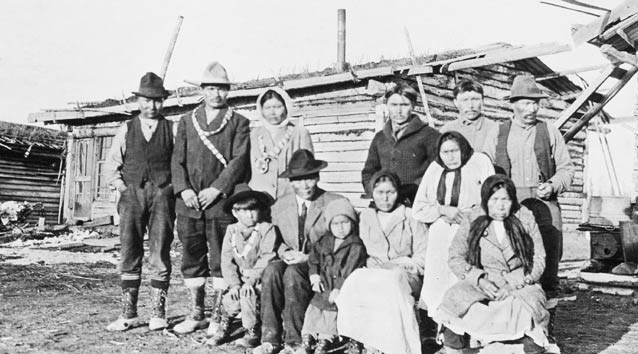 Management directives for Denali National Park and Preserve (Denali) stipulate that traditional lifeways and historic and contemporary activities of Alaska Native peoples be considered in the decision-making process. This article illustrates the types of information documented in recent research that can assist park officials in fulfilling this important mandate.

The area in and around Denali comprises part of the aboriginal homeland of five Northern Athabascan Indian groups—Dena'ina, Koyukon, Lower Tanana, Upper Kuskokwim, and Western Ahtna. The affiliation of five Native groups with one national park is unique and illustrates the rich and diverse cultural heritage of the Denali area.

The long-term use and occupancy of the area by these five groups is confirmed by examining the areas to which they assigned place names. The linguist James Kari (1999) assembled more than 1,650 names that these groups gave to geographic features within a 100-200 mile (161-322 km) radius of the summit of Mt. McKinley. Many of these names are associated with landmarks located on or near rivers and streams (Figure 1).


Sociopolitical Organization
Like most hunter-gatherer peoples, Denali area Athabascans lived in small, autonomous groups comprised of close relatives. Political organization was decentralized and informal; most decisions affecting the group were reached by consensus. An exceptional man might exert his authority over the group, but people followed his decisions only if they considered doing so to be in their best interests.

Kinship ties extended beyond the immediate group and provided people with a network of relatives from which assistance could be obtained when resources were scarce. Descent was matrilineal so a child belonged to their mother's clan. Households typically consisted of two related families who shared a dwelling and functioned as a single economic unit. For much of the year, people lived in small aggregates referred to as the local band, which was a large extended family centered around a core group of siblings, their spouses, children, and other close relatives. Band size varied but usually numbered from 20-75 people. Two or more local bands in the same area often joined forces to harvest fish and wildlife. This larger group, or regional band, had as many as 200-300 members who were linked by kinship ties and language dialect.


Band Territories in the Denali Area
Regional bands were associated with a specific territory shaped by the drainage pattern of a major waterway. On the south side of the Alaska Range a Dena'ina band called the Susitnuht'ana or Susitna River people, used an area extending north from the mouth of the Susitna River to the Alaska Range and Talkeetna Mountains, while a mixed band of Dena'ina and Ahtna, called the "mountain people," exploited the Talkeetna River drainage. The home territory of the Western Ahtna included the Broad Pass area and upper Nenana River corridor. One Lower Tanana band had a territory that included most of the drainages of the Nenana and Toklat rivers. Several Upper Koyukon bands inhabited the Kantishna River drainage from the Tanana River south to Denali and from the Toklat River east to Lake Minchumina.