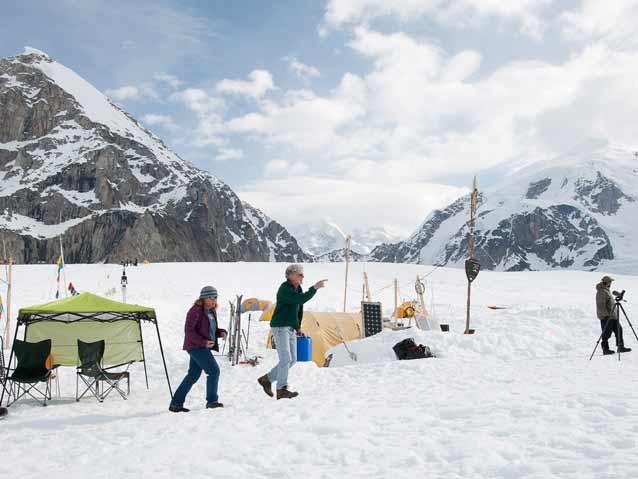 Late spring sunlight glows through a tent at the 14,200-foot (4328 m) camp. Dr. Caitlin Gustafson is taking 0.3 cc of blood from a climber who wears a wool hat, her turtleneck pushed up to the elbow, and a grin.

Dr. Clay Roscoe stands by, ready to insert a cuvette into a portable cooximeter that measures the amount of carboxyhemoglobin (COHb): carbon monoxide (CO) bound with hemoglobin in the blood. The level of COHb indicates exposure to CO from heaters or cooking stoves in poorly ventilated tents.

It is another day of research on the mountain.

Among those who ascend the slopes of Denali are physicians and health care professionals who conduct research on the common maladies of mountaineers—carbon monoxide exposure, frostbite, diarrhea, dehydration, and high altitude illness, which can plague even the fittest climber. These research projects are part survey (questioning climbers about activities or symptoms) and part assay (assessing chemical or physiological status from blood samples). Below are brief synopses of four of these studies.
 
Do Climbers Exposed to Carbon Monoxide Have Higher Risk of Acute Mountain Sickness?
The woman volunteering a blood sample in the first aid tent was one of 146 climbers that Roscoe and Gustafson, both of the Family Medicine Residency of Idaho, enlisted in 2004 to assess CO exposure risk in climbers (Roscoe et al.). To test the relationship between elevated COHb and Acute Mountain Sickness (AMS), Roscoe and Gustafson took blood samples in addition to asking climbers about exposure to CO, past history of AMS, and symptoms of AMS (headache, nausea, fatigue, dizziness, and sleeping difficulty).