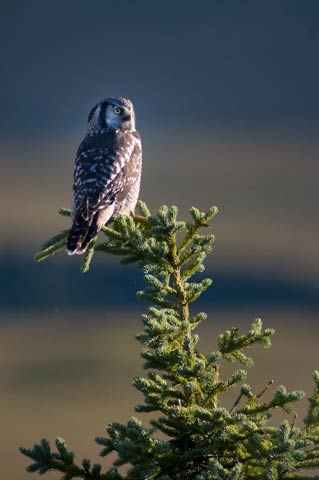 The physical environment strongly affects vegetation patterns in Alaska, and songbird communities are tied to vegetation patterns. In designing a long-term monitoring program for Denali, we saw an opportunity to collect integrated data to better understand how the ecosystem functions as a whole and to delineate the specific relationships among these elements of the biota.

We developed a sampling design where repeated observations of the physical environment, vegetation and birds are made at randomly selected points (Roland et al. 2003). This design will allow detection of changes in the ecosystem at a landscape scale, for long periods of time. The sampling design is comprised of five rows of five plots, all 547 yards (500 m) apart, arranged in a grid pattern at each study area. These "mini-grids" are themselves arranged on a macro-grid with 6.2 miles (10 km) spacing. By utilizing a randomized site selection procedure, the program provided unbiased data about the status and trend of park resources over large spatial scales.

One focus of data collection was the Toklat Basin in the northeastern region of Denali (Figure 1). We collected data on the physical environment, vegetation, and passerine birds on nearly 200 plots in eight mini-grids in this region from 2001 to 2003. This data set has allowed us to establish a baseline of ecological conditions for this area and to quantify some of the primary ecological dynamics in this ecosystem. In this article, we highlight our research by presenting one example of the benefits of integrated data collection of physical attributes, vegetation, and birds for understanding ecological dynamics.


An Example of Integrating Monitoring at a Landscape Scale
A main attribute of the Toklat Basin region is permanently frozen ground (or permafrost), which affects many aspects of the ecosystem. The basin slopes to the north and lies in the shadow of the Alaska Range. Thus, solar energy inputs in this area are low compared to areas with southerly aspects, or those not in the shadow of the Alaska Range. In addition, strong winter winds often blow away the insulating blanket of snow, allowing the subarctic winter cold to penetrate and freeze soils deeply.