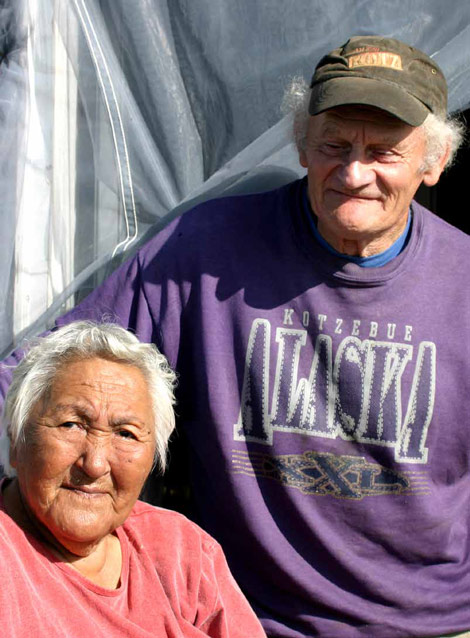 Bob Uhl and his late wife, Carrie (Figure 1), lived in remote sites in Cape Krusenstern National Monument for more than 50 years (Figure 2). Bob first arrived in Kotzebue in 1948 while serving in the Army, and stayed in the area. Carrie grew up in a traditional Iñupiaq family in Kotzebue Sound. For many years, the couple lived at Sisualik in the summer and moved inland to a cabin amid the trees at Sanningaruq during the winter.
From 1990 to 2004 Bob kept journals of daily observations; these unique accounts provide a wealth of information about weather, climate, flora, and fauna.

Birds appear in almost every day's entry. As a subsistence user, Bob related to the birds as a source of food. As a fellow dweller of the natural world, he also saw them as friends. Above all, however, Bob was a naturalist who knew changes in certain populations affected other parts of the ecosystem. His journal records the birds' seasonal migrations, deviations from expected behavior, and connections between birds and other species.
Birds as Food Sources
In a 1977 report about subsistence patterns of residents of the Cape Krusenstern area, Bob and Carrie Uhl asserted that birds and eggs were among the most essential local foods. They pointed out that migratory birds arrived in the spring after seven months of a practically birdless sky. Not surprisingly, although bird hunting was then only allowed in the fall, "this regulation goes against practical subsistence living and is widely disregarded" (Uhl and
Uhl 1977). A 1997 bird harvest survey conducted by the Alaska Department of Fish and Game (ADFG) in Kotzebue shows that this pattern continued: while 27.6 percent of the households that regularly hunted birds harvested ducks in spring, only 17.6 percent took ducks in the fall (ADFG 1997). Fortunately, a spring subsistence hunting season for migratory birds went into effect in 2003, recognizing the long tradition of spring bird hunting in rural Alaska.