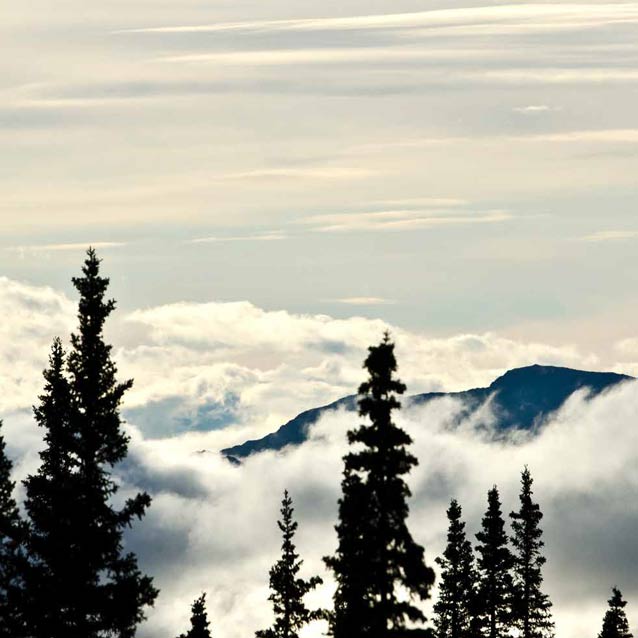 Introduction
Congress passed the Alaska Native Claims Settlement Act (ANCSA) in December 1971 to establish a mechanism for resolving land claims of the Native peoples of Alaska and for encouraging the State of Alaska to complete its land claims as provided in the Alaska Statehood Act. The stimulus behind ANCSA was economic pressure to provide a corridor for an oil pipeline that would carry Prudhoe Bay oil to an accessible year-round marine port. One compromise that helped make passage of the act possible was inclusion of two conservation-focused provisions that came to be known as D1 and D2. These provisions authorized federal managers to identify up to 80 million acres (D2) of lands that would be set aside for study as possible additions to national forest, park, wildlife refuge, and wild and scenic river systems plus additional lands (D1) that could be considered in such study.

ANCSA prescribed a formula for determining what lands would be identified for possible selection by the Native corporations. The State had been developing a strategy and conducting analyses of lands in which it had interest for a number of years since passage of the Alaska Statehood Act in 1958. The federal agencies and conservation communities for a number of years had been developing ideas about areas of Alaska that might warrant conservation status. The National Park Service (NPS), for example, had conducted a variety of field surveys and natural and historic theme studies in Alaska from as far back as 1938 and had recommended several national monument proclamations to the Secretary of the Interior that the Secretary recommended to the President. A June 1972 NPS summary of past NPS activities identified 22 reports and a long list of registered, eligible, recommended, and potential Natural Landmarks (National Park Service 1964 and National Park Service 1972a are examples of published discussions about possible additions to the National Park System and Sanchez 1967 and Schmidt 1969 are examples of natural landmark eligibility reports). As a result of these various efforts, the interested parties were able to identify and map a tentative distribution of the then mostly federal lands and waters of Alaska into Native, State, conservation interest, and residual categories, and the federal land management agencies sorted out among themselves which agency would be assigned to study which components of the identified conservation-potential lands. NPS by mid-March 1972 had identified 14 conceptual study areas and several principal values for each of those study areas. The overall time line for this study activity required NPS to establish final study area boundaries by September 1972 and submit final recommended study packages (each containing conceptual master plan, legislative support data, and environmental impact statement) by mid-December 1973.

Through its very active role in this process, NPS thus succeeded in receiving authorizations to study identified areas either for addition to the existing Glacier Bay National Monument, Katmai National Monument, and Mount McKinley National Park or for establishment as additions to the National Park System. These new-addition study areas included what are now Aniakchak National Monument and Preserve, Bering Land Bridge National Preserve, Cape Krusenstern National Monument, Gates of the Arctic National Park and Preserve, Kenai Fjords National Park, Kobuk Valley National Park, Lake Clark National Park and Preserve, Noatak National Preserve, Wrangell-St Elias National Park and Preserve, and Yukon-Charley Rivers National Preserve.

The intense state and national pressure for quick action spurred NPS by early 1972 to establish an Alaska Task Force with headquarters in Washington, D.C., the bulk of the work force in a bustling project office based in Anchorage, Alaska, and administrative support provided in part by the regional office in Seattle, Washington. The project office by mid-May had developed five study teams, four four-person teams that each addressed a separate part of the new area field work and a fifth team that explored cultural sites that had been identified as warranting consideration. Each team included a team captain, landscape architect, biologist, and interpretive planner. The biologist's role was to incorporate natural science thinking into the planning. Headed by a project leader and an administrative officer, the project office also had a cadre that included an engineer, several archeologists, a sociologist, representation for park management, a support data and service center liaison, a photographer, and land and mineral specialists. It developed this work force through reassignments and part-time details of personnel from other areas of the NPS. Having just joined NPS in October, 1971, as the Katmai biologist and being duty stationed in Anchorage, I became one of the five biologists. Being totally green to the ways of NPS, I found my entry into NPS being split between park and task force science to be extremely educational, heady, and rewarding. The following overview highlights elements of this heady science effort.


Science Strategy
Early on, the task force recognized that there were great differences of pre-existing knowledge about the different study areas and that the new area proposals that would emerge from the study process would be analyzed in part through procedures of the then new National Environmental Policy Act (NEPA) of 1969. Given that these procedures would be undergoing development even as the planning and analysis process progressed, it was observed that the Alaska planning would provide NPS an early opportunity to benefit from environmental impact analysis for planning. For example, an April 1972 memorandum (NPS 1972) pointed out the need to address historic—including archeological and paleontological—resources in NEPA documents and a court decision that was circulated to the task force in August 1972 (Lybecker and Lloyd 1972) discussed the necessity of backing up comments with existing data or with research results from new studies. These factors contributed to the task force setting aside funds to support library and field scientific activities that would inform and complement the new area planning studies that had gotten underway.