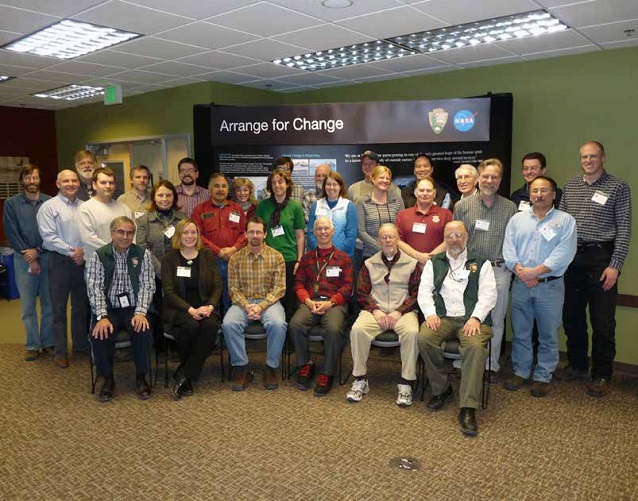 Introduction
Today, advocating for use of interdisciplinary research to address issues associated with climate change seems almost rhetorical. For example, an advisory committee to the National Science Foundation (NSF), the U.S.'s major source of funding for scientific research, states:
With respect to climate change NSF places a high priority on research that integrates behavior and life sciences, earth and atmospheric sciences, social sciences and mathematical, physical, engineering and informational sciences.
Interdisciplinary priorities for NSF and other agencies will not achieve all they could achieve if the institutional practices within the research and education communities are not adapted to facilitate interdisciplinary action (Advisory Committee for Environmental Research and Education 2009).
Echoing this position, the National Park Service Climate Change Response Strategy incorporated six principles from a 2009 National Research Council report "to provide a framework for building the collaborative and flexible response capacity that the NPS needs to effectively address climate changes." Of particular interest to the thesis of this article is Principle 4: building connections across disciplines and organizations.
To ensure that the best information is available for decision makers as knowledge about climate change and effective responses increases, significant effort must go into building networks that encourage interdisciplinary collaboration among people with a wide range of technical expertise within the bureau and the department as well as across other agencies, partners and stakeholders (emphasis added) (National Park Service 2010).
Despite the self-evident nature of this proposition NSF added the following caveat:
Current practices in academic and government institutions, with their traditional disciplinary funding and evaluation mechanisms, often inhibit the truly innovative and integrative science and education the nation needs. NSF should adopt organizational and review strategies that promote interdisciplinary innovation and ensure that programs funded for interdisciplinary activities have the longevity necessary to attract scientists to work collaboratively across the disciplines (Advisory Committee for Environmental Research and Education 2009).
This article reflects NSF's concern by providing a brief description of long-term difficulties in building this vision of multidisciplinary research into subsistence issues in the Alaska region. In contrast to this disappointing precedent we will next describe a very solid interdisciplinary effort to produce sub-regional climate change scenario planning documents for Alaska. Finally, we end with a more sobering tale of the difficulties of inter-organizational coordination and cooperation in responding to climate change impacts to rural coastal communities in Alaska.
The preceding paragraph highlights the terms "multidisciplinary" and "interdisciplinary." We suggest that "multidisciplinary" efforts are research projects where separate disciplines each write their own proposals, set their own budgets and research designs, and collect and analyze their data independently. What ties a "multidisciplinary" effort together is that the outcomes of their research share a topical link, e.g., caribou—their biological status and their human harvest and cultural uses. In addition, the findings of these independent research efforts are produced within a short enough temporal window that both types of data can be used to inform management decisions. In contrast, "interdisciplinary" research often shares a common funding "pot" (a useful but not essential condition) and a coordinated and collaborative overall research design. Such a research design has milestones whereby the products of one discipline; for example, geophysics/climate modeling, is a necessary input for other disciplines, e.g., biology/ecology, to conduct their own analysis. All disciplines perceive that their research and/or analyses are critically integrated in the production of a final report containing a shared vision.