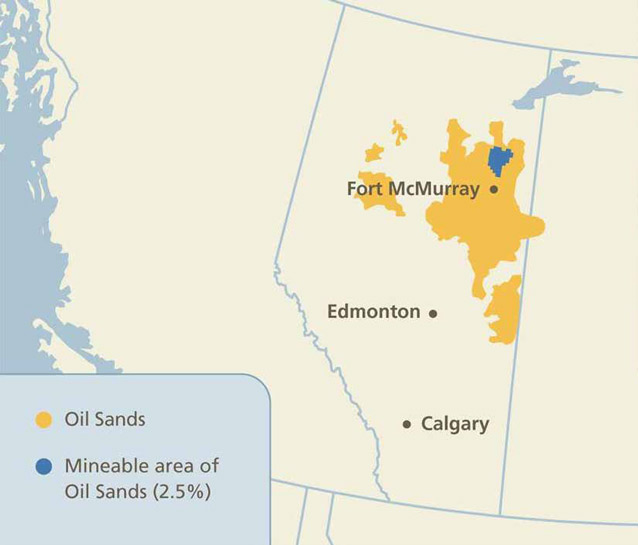 Open-pit mining of oil sands in northern Alberta began in 1967. In the past five decades operational practices in reclamation have adapted to changes in technology and regulatory requirements. One example is the first tailings pond in the region, which was actively used by Suncor Energy from 1967 to 1997. The surface of the tailings pond, now called Wapisiw Lookout, was reclaimed in 2010 to target a locally common boreal forest. It incorporates wetlands and local trees and shrubs, and provides wildlife habitat. The dyke slopes were reclaimed over a period of three decades, during which stakeholder expectations and regulatory requirements changed. Wapisiw Lookout provides an example of how the process of reclamation includes adaptive management to arrive at the final goal of closure and certification.

Alberta's oil sands lie under 54,904 square miles (142,200 square kilometers) of Canada's boreal forest. Only 2.5 percent of this area has deposits close enough to the surface to be mined by truck and shovel (Figure 1). Deeper deposits of oil sands are extracted through in situ technologies such as Steam Assisted Gravity Drainage (Figure 2).

Oil-sands mining began in the region in 1967 with Suncor Energy (then Great Canadian Oil Sands), followed by the start-up of Syncrude Canada Ltd. in 1978.

Oil sands are a mixture of bitumen (heavy hydrocarbons), water, sand, and fines. A hot-water extraction method is used to separate the bitumen from the sand and fines. The water is stored in tailings ponds to allow the sand and fines to settle out before reuse. Fluid fine tailings remain in the bottom of the pond and settle very slowly. Tailings ponds are a fundamental component of oil-sands mine operations because they facilitate reuse of water in the extraction process.

Pond 1 at Suncor, now called Wapisiw Lookout, was an active tailings pond between 1967 and 1997. As bitumen production increased, the inventory of fluid fine tailings increased, and the tailings pond was enlarged until the dykes rose to approximately 330 feet (100 meters) above the Athabasca River. The tailings pond had a final circumference of approximately two miles (three kilometers). Pond 1, at the end of its life as a tailings pond, contained a large volume of mature fine tailings (MFT). Mature fine tailings are comprised of approximately 70 percent water and 30 percent clay (by weight). These tailings were pumped from Pond 1 to another pond to be treated in a different tailings process, and coarse tailings sand was pumped into Pond 1. Replacement of the MFT with coarse tailings sand allowed Pond 1 to be reclaimed sooner to a terrestrial landscape, supporting progressive reclamation. The treatment of fluid fine tailings to a state enabling reclamation remains a major challenge for the industry.
Progressive Reclamation
The Environmental Protection and Enhancement Act of the Government of Alberta requires that land disturbed for oil-sands extraction must be conserved, reclaimed, and a reclamation certificate must be obtained. The conservation step requires salvage of reclamation material from the land surface and its storage for use in reclamation at a later date. Because oil-sands mines exist for the most part on public land, the land is ultimately returned to the province after reclamation. The Conservation and Reclamation Regulation states that the objective of conservation and reclamation is to return the land to an equivalent land capability. Land capability is defined in the regulation as the ability of the land to support a given land use, based on the evaluation of the physical, chemical, and biological characteristics of the land, including topography, drainage, hydrology, soils, and vegetation. The concept of equivalency must be considered and evaluated at multiple scales across the entire ecosystem.

The Government of Alberta recently changed the format by which disturbance and reclamation at oil-sands mines are tracked over time. The intent of this change was to provide more clarity for public reporting on the progress of reclamation (Table 1). Using Pond 1 as an example, it would have been classified as "disturbed" (used for mine or plant purposes) until 1997, when it would have moved into the "ready for reclamation" category. Between 1997 and 2009, MFT and process-affected water were removed from the pond and replaced with coarse tailings sand (Figure 3) to ensure a trafficable surface. A geosynthetic clay liner was used in the cover design of some areas of the pond surface, and swales were included to move surface water to a constructed wetland. From 2009 to 2010 approximately 65,000 truckloads of reclamation material (upland soil, peat-mineral mix, and coarse woody debris) were placed to a depth of 20 inches (50 centimeters) across the surface of the pond (Figure 4). Following this activity Pond 1 was moved into the "soils placed" category. In 2010, over 630,000 trees and shrubs were planted, moving Pond 1 into the "permanent reclamation" category.

At this time Pond 1 was named Wapisiw Lookout (Figure 5). According to local history, Captain Swan was the name of a Cree Indian who introduced the Hudson's Bay Company to the oil sands in 1719. Swan translates into Cree as Wapisiw. Treaty rights of First Nations and their requirement for a closure landscape that supports traditional practices are important in defining reclamation outcomes. The majority of Wapisiw Lookout is now permanently reclaimed and undergoing reclamation monitoring (Figure 6).