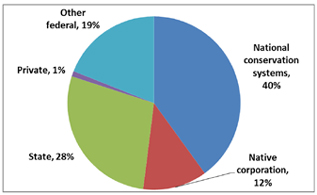 Figure 1 shows the allocation of Alaska's 375 million acres. Approximately 40 percent are in federal conservation units, and approximately 38 percent of these 150 millions acres are designated wilderness. The Alaska National Interest Lands Conservation Act (ANILCA) of 1980 added most newly designated conservation units in the form of national wildlife refuges. The second most important category of additions was new national parks and preserves.

Wilderness and Tourism
The Alaska visitor industry is the only private sector basic industry that has grown almost continuously since statehood and continues to grow. Almost 1.6 million visitors came to Alaska in summer 2011, and 91 percent of them came primarily to see the state's mountains, glaciers, and wildlife (McDowell Group 2012). Alaska's visitor industry accounted for an estimated 37,800 full- and part-time jobs from May 2011 to April 2012, including all direct, indirect, and induced employment. Estimated peak employment was 45,000. These jobs resulted in total labor income of $1.24 billion. Visitors spent $1.7 billion in Alaska, most of it in the summer months (McDowell Group 2013).