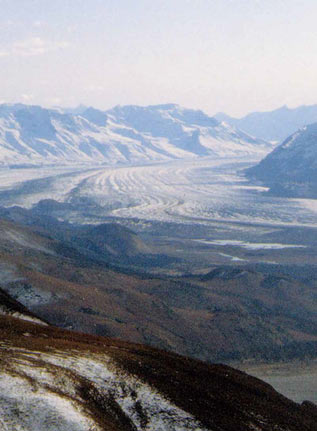 I always thought that one could see forever if one could be friends with the steep shadows that drop quickly in the autumn mountains. There is a rhythm even in the silence that marks time in a way that could never be counted in the twisting electronic glare of captured light cast harshly against houses, or glass or steel.
Once turned, the trail is a different friend. A horse quickens his pace, the camp dog will bounce a bit, and the hunter feels for the moment a sense of senselessness. All is home on the trail whose call may be older than your clan but even then I can sense in the pull of the evening sky something more vast and more complete, just ahead or just around the corner or maybe next to the last lonely sun-caught rock on a distant peak.
I know I have heard forever but have I seen it? Which eyes would it have been? The Nabesna? Let's see what it looked like then.
At six years of age I could only see the field lying just past the trees, and what seemed to me miles and miles of openness, reaching in a giant sweeping arc to the glacier, brilliant in the noon sun. It was only twelve miles away but I could see the broad, blue-white back snaking around the corner of the mountain in a sprawling curve that left nothing to chance, not in this eyesight or any other. The field would always have a fresh-blown feel to go with the enchanting scent of new flowers rooted in patches of purple, gold, and green.
The horses would shake their manes and long after in a faraway tone I would hear the bells which hung on their necks. Time comes in patches at six years of age and choppy even without the wind. I could not see downriver because of the trees and the creaking alders, but I could see upriver and it was a child's forever right from the front of the cabin to the top of the sparkling glacier. It was there, it was always there. The noon sun would sear the river rocks and the heat waves would dance like dervishes first one way and then the other.