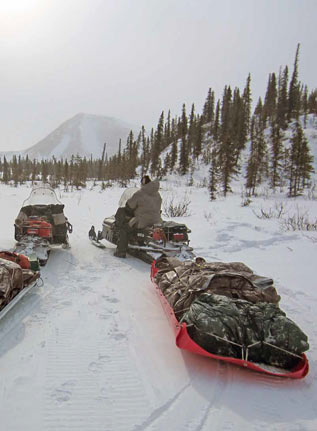 Northwest Alaska, from Kotzebue Sound to the headwaters of the Kobuk River, is approximately the size of Indiana. It is mostly roadless wildlands dotted by eleven villages that are located on the coast or along the major rivers.

The Red Dog Mine with its associated road and port site is the only large resource development project in the region, leaving most of the area in a natural state. Except for Red Dog, the relatively small rural communities, and the numerous but even smaller individual camps along the coasts and rivers, there is no obvious distinction between what is designated as formal wilderness and what is not. Federal lands in the form of parks, preserves, wilderness areas, a monument, and a national wildlife refuge comprise the majority of formal land designations in the region.

Wilderness areas include the Selawik Wilderness, Noatak Wilderness, Kobuk Valley Wilderness, and Gates of the Arctic Wilderness. Given the lack of habitat demarcation between wilderness areas and other areas, it is not surprising that you would be hard pressed to find any lifelong residents of northwest Alaska who could tell you where the formal wilderness areas are, or how they differ in management from other federal lands.

While most people in the region are aware that park units and other land designations exist, few are aware that formal wilderness areas occur here as well. This collective inability to identify the boundaries of wilderness areas demonstrates the intact nature of the land and local residents' strong cultural ties to it, with the only visible boundaries being on paper (Figure 2).