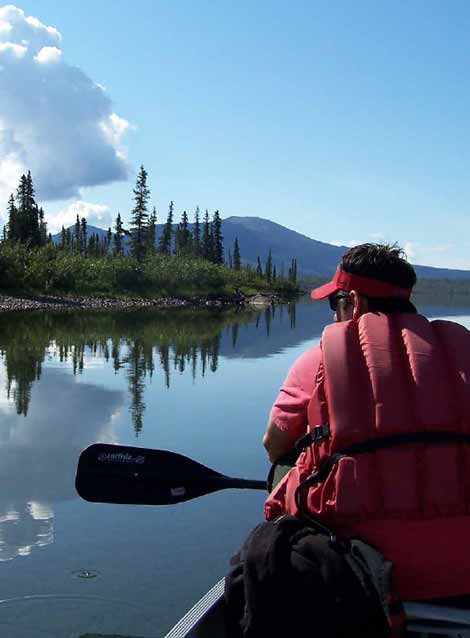 Wilderness is good for Alaska. That's what many of we Alaskans already think, and it's the message that the Wild 50 groups in Anchorage, Fairbanks, and Juneau hope to spread across the state during 2014, the fiftieth anniversary of the 1964 Wilderness Act. Comprised of federal agencies, nonprofit organizations, Native representatives, academic institutions, youth, tourism sectors, and volunteers, Wild 50 is planning commemorative events across the state to celebrate this important anniversary.

We have a lot to be excited about. Alaska wilderness serves as a unique scientific laboratory. It has been the engine for fifty years of tourism growth in Alaska. It includes landscapes that inspire countless works of art. It is a playground for hardy adventurers, a touchstone to the past, and a link to cultural identity. It conjures a sense of freedom and self-reliance that is getting harder to come by in our technology-centric world. Wilderness areas around the country contain similar attributes, but Alaska wilderness is the epitome of our National Wilderness Preservation System (NWPS) and remains an iconic symbol of wildness and freedom worldwide.

Alaska wilderness is unique and there is a lot of it. About 95 percent of National Park Service (NPS) land in Alaska falls under some category of wilderness protection—about 30 percent of the nation's wilderness. Including areas managed by the U.S. Fish and Wildlife Service and U.S. Forest Service, we're collectively talking about more than 57 million acres of designated wilderness in Alaska: watersheds, mountain ranges, glaciers, wetlands, coastlines, volcanoes, and forests that support diverse wildlife populations, protect archeological resources, provide a setting for wilderness recreation, and support the continuation of a subsistence lifestyle for local communities.

The Alaska National Interest Lands Conservation Act (ANILCA) ensures that wilderness in Alaska is unique within the NWPS by making unprecedented allowances for access and activities not normally found in Lower 48 wilderness areas. Prior to passage of ANILCA, people all over Alaska were involved in widely dispersed activities like backcountry recreation, cabin building, hunting, fishing, trapping, and small-scale mining—often in very remote and primitive settings. Their methods of transportation varied widely, from foot travel and dog sleds to snowmachines, motorboats, and airplanes. To satisfy the demand for protection of the wildlands of Alaska, Congress realized that some special exceptions would be necessary to preserve traditional activities and accommodate transportation needs between remote communities. When finally passed in 1980, ANILCA reserved federal lands on an unprecedented scale while also including similarly unprecedented special provisions to address Alaska's distinctive rural way of life and lack of infrastructure. ANILCA tried to make wilderness a good thing for everyone.

Unfortunately, not everyone saw it that way. Wilderness faced threats from adjacent resource development, and many Alaskans were fearful that land management would constrain local lifestyles and diminish potential for economic growth. Many heated debates transpired about how to make decisions that were best for our wilderness resources, Alaskans, and the American public.

Land managers confronted numerous challenges internally. They had to learn what this new ANILCA wilderness was all about and communicate that information to their own staff and to the public. They had to make sure wilderness had a seat at the table and that their colleagues were willing and able to integrate wilderness values into decision-making processes. They also had the difficult job of making park managers and field staff aware of their roles and responsibilities in managing wilderness lands; that often meant taking more time to make decisions and doing work differently than how they had done it in the past.

Wilderness stewardship in Alaska has come a long way. Proponents of resource development are now tempered by a broad spectrum of Alaskans who appreciate the benefits of wilderness. These often include conservation organizations, hunters, trappers, birders, Native groups, commercial fishing interests, photographers, outdoor sport enthusiasts, armchair adventurers, tourism organizations, and small businesses.