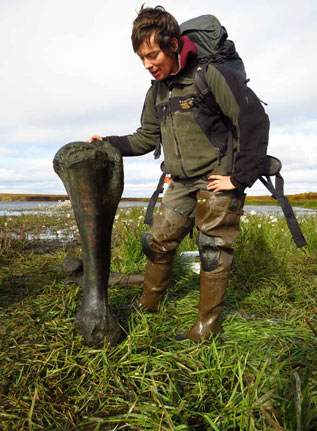 Northwest Alaska Eighteen Thousand Years Ago
The Pleistocene, or mammoth, steppe was characterized by a dry climate, with cool summers and a landscape rich with grasses spanning from Spain to Canada. These conditions were ideal for the large grazers of the day, with the most common being the steppe bison (Bison priscus), horse (Equus sp.) and the woolly mammoth (Mammuthus primigenius) (Figure 2). Though much lower in numbers, a suite of carnivores that preyed upon the grazers also inhabited the region, with the American lion (Panthera atrox), short- faced bear (Arctodus simus), and the grey or timber wolf (Canis lupus) being the best known (Kurten and Anderson 1980). The area supported a much greater variety of species than we see today.

The Bering Land Bridge describes an arid swath of land that connected Asia with North America during the Pleistocene epoch (2,580,000 to 11,700 years ago). This connection occurred when massive ice sheets held a larger percentage of the earth's water than today, causing sea levels to be lower, thereby exposing large tracts of land. At its greatest extent, approximately twenty-one thousand years ago, the land bridge measured some one thousand miles from north to south. The "bridge" served as a passageway for the movement of an array of species between the continents of Asia and North America.