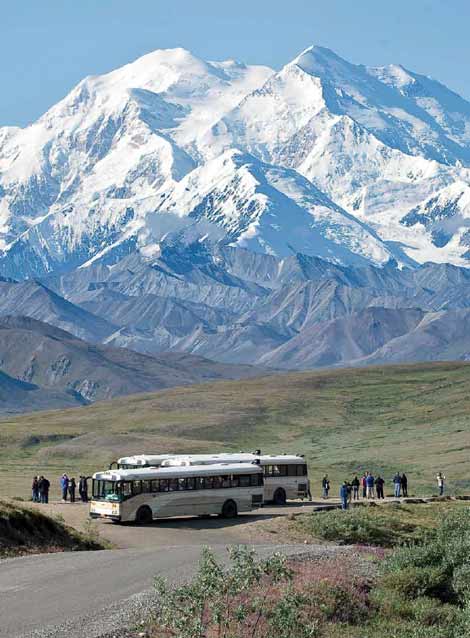 Six-million-acre Denali National Park and Preserve is widely known as a wilderness park. But this vast tract of wild land is bisected by the ninety-mile Denali Park Road, which crosses boreal forests, subarctic tundra, large glacial rivers, and prime wildlife viewing areas.

The road corridor is a mere three hundred feet wide, offering an up close and personal view of wilderness to the hundreds of thousands of visitors each year who travel the road on the park's innovative Visitor Transportation System (VTS) bus system and commercial tour buses.

This way of experiencing wilderness—it's been called a "near-wilderness experience"—is increasingly important (Hallo & Manning 2010). At Denali, it provides the vast majority of visitors their primary experience with the park's wilderness, allowing visitors to observe wildlife in their natural habitat and enjoy outstanding scenery. More broadly, the iconic roads of the national parks such as Going to the Sun Road at Glacier, Tioga Road in Yosemite, and Acadia's Park Loop Road, along with thousands of miles of other roads that penetrate or skirt many of the country's wilderness areas, offer "access" to wilderness to the greatest number of "wilderness visitors." This near-wilderness experience should be managed to help ensure that it is of the highest quality.

Development of a new plan for the Denali Park Road over the past several years has been a good opportunity to explore this type of near-wilderness experience. Initial phases of research to help support this plan identified a number of potential indictors of quality for the Denali Park Road experience (Manning & Hallo 2010). Indicators of quality are measurable, manageable variables that help define the quality of recreation experiences (Manning 2007; Manning 2011). Qualitative and quantitative surveys of visitors, along with other forms of public input, found that potential indicators of quality include: (1) the number of buses seen along the road at any one time; (2) the number of buses seen at informal wildlife stops; (3) the number of buses at rest stops; (4) the percentage chance of seeing a grizzly bear; (5) the accessibility of buses (for example, chance of getting a seat on a bus); and (6) trip length. Respondents and participants reported that all of these indicators were important to the quality of the visitor experience.

But which indicators are most important? This question is especially relevant when some indicator variables may conflict with others. For example, increasing the number of buses on the road would enhance accessibility, but it would also increase the number of buses seen along the road and at rest stops and informal wildlife stops (see figures 2-4 for a range of conditions for these indicator variables). Increasing the number of buses might also reduce the chance of seeing a grizzly bear and other iconic wildlife (though the relationship between these variables is complex). We used a survey and statistical procedure called stated choice analysis to help determine which indicators of quality are most important to visitors.