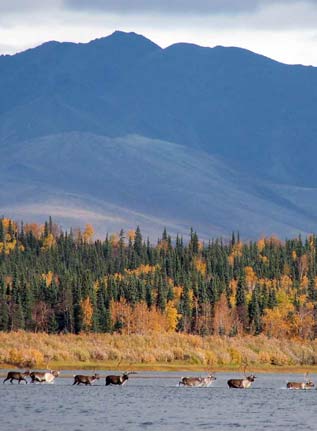 The Challenge
The majority of Alaska National Park units identify wildlife conservation as a central purpose in their founding legislation. Further, most of these lands are also designated wilderness where the National Park Service (NPS) is required to preserve naturalness. Thus maintaining and preserving natural populations, behaviors, and systems—that is, naturalness—is a core function of the Alaska region (Figure 2).

The responsibility to maintain natural wildlife populations is challenging due to both inherent and external factors. By their nature, populations of many wildlife species vary dramatically in response to natural ecological processes or as part of their life history (for example, caribou, lynx and hare). In addition, they migrate to and from parks both seasonally and as part of longer term range shifts (Figure 1). Climate dynamics will no doubt add to the complexity of wildlife population management in the future.

Because wildlife does not honor political boundaries, Alaska NPS shares management duties with others (federal agencies, the State of Alaska, Native organizations, private land owners, and our Canadian counterparts). Over the past decade, the State of Alaska has emphasized the production of preferred game species through liberalized predator harvest and management programs (Figure 3). This approach is difficult to rectify with the NPS mandate to maintain natural processes.